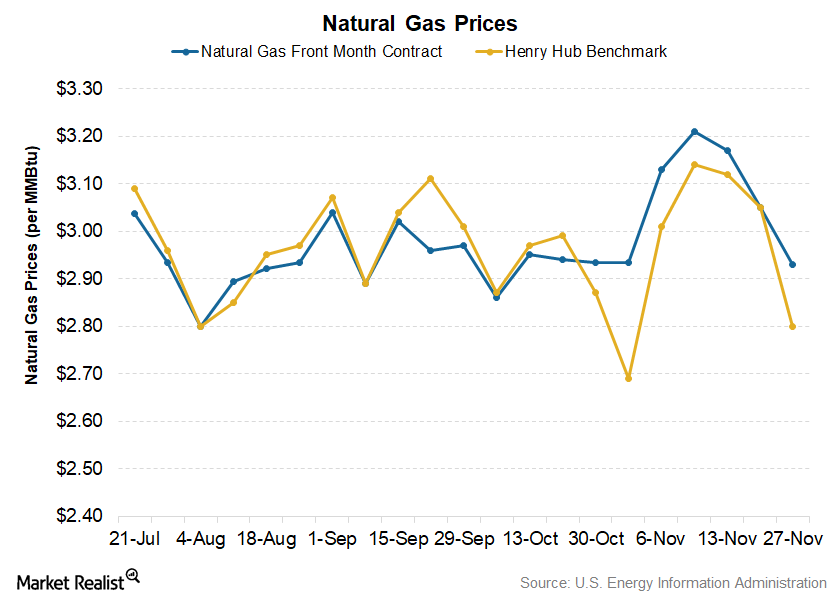 Natural Gas Prices Falls despite Strong Demand
Natural gas prices
December US natural gas futures closed at $2.93 per MMBtu (million British thermal units), while Henry Hub natural gas settled at $2.82 per MMBtu on November 27, 2017. The Henry Hub figure was lower than the $3.05 per MMBtu reported on November 20, 2017.
In its latest short-term energy outlook report, the EIA (U.S. Energy Information Administration) forecast the average Henry Hub natural gas spot price in 2018 to be $3.10 per MMBtu. The forecast reading is nearly 3.0% higher than the 2017 estimate of $3.01 per MMBtu. In the report, the EIA stated that an anticipated increase in natural gas consumption and exports in 2018 prompted it to forecast a higher average Henry Hub price.
Article continues below advertisement
Effect on coal producers
Utilities tend to choose natural gas over coal when the former's prices are weak. Coal (KOL) producers such as Cloud Peak Energy (CLD) and Arch Coal (ARCH) may lose market share in such instances. Likewise, they may gain market share when natural gas prices are strong. Continue to the next part for details on coal inventory levels.