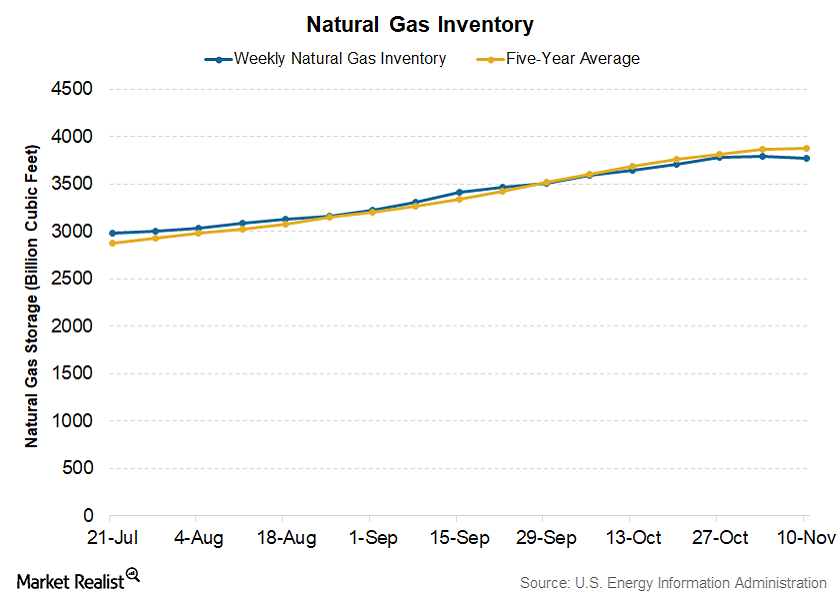 Natural Gas Inventory Falls: Could Coal Miners Benefit?
Natural gas inventory
The EIA (US Energy Information Administration) released its most recent natural gas inventory report on November 16, 2017. In this series, we'll examine the natural gas inventory for the week ended November 10, 2017, and its effects on natural gas and coal pricing.
According to EIA estimates, the natural gas inventory stands at 3,772 Bcf (billion cubic feet), 0.5% below the 3,790 Bcf recorded in the week ended November 3, 2017. The natural gas inventory fell by 18 Bcf, surpassing the 14 Bcf fall analysts had expected.
The inventory was down 6.7% from the 4,043 Bcf reported during the corresponding week in 2016, and 101 Bcf below the 3,873 Bcf five-year average. At 3,772 Bcf, the inventory for the week ended November 10 is within the five-year historical range.
Article continues below advertisement
Why is the EIA report important?
The natural gas inventory is an indicator of current natural prices, as commodity prices are a function of the commodity's demand and supply. Strong demand with a constant supply will lead to more customers chasing after each unit, boosting the commodity's price. On the contrary, weak demand with a surplus supply will lead to a fall in prices since the commodity is abundant. Therefore, inventory levels are a useful metric for investors to understand the dynamics of natural gas prices.
Impact
For the week ended November 10, 2017, the natural gas inventory was below the five-year average by nearly 2.6%—the first withdrawal of the 2017–2018 winter heating season. According to the EIA, natural gas consumption in the United States for the week was 14% higher than in the previous year. The strong demand for fuel during the cooler months and the fall in supply may have a positive effect on natural gas prices.
Utilities such as Southern Company (SO) and NextEra Energy (NEE) may opt for coal rather than natural gas if the latter's prices are high, which may benefit coal (KOL) companies such as Alliance Resource Partners (ARLP), Westmoreland Coal (WLB), and Alpha Natural Resources (ANRZQ). Next, we'll look at whether strong demand and low supply have positively affected natural gas prices in the last week.