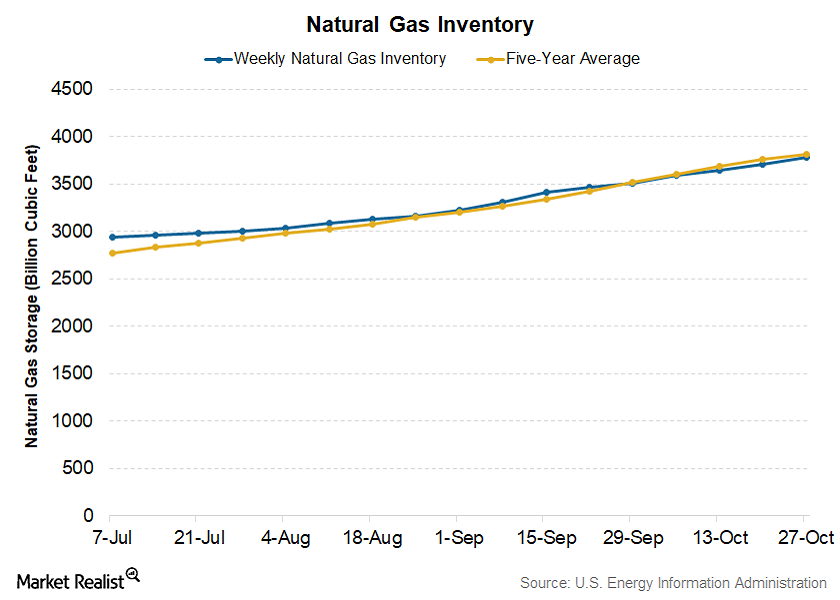 Natural Gas Inventory Continues to Fall below the 5-Year Average
Natural gas inventory
Commodity prices depend on supply and demand. If supply is constant with rising demand, prices will rise since more buyers will be chasing after each unit of the commodity. If supply is high with limited demand for the commodity, prices will fall since the commodity is obtained easily. So, commodity inventory information is useful for investors to get an idea about price fluctuations.
On November 2, 2017, the EIA (U.S. Energy Information Administration) published the natural gas inventory report for the week ending October 27, 2017. The latest natural gas inventory is 3,775 Bcf (billion cubic feet)—1.8% above 3,710 Bcf posted for the week ending October 20, 2017. It rose by 65 Bcf on October 20–27 and beat analysts' estimate of an increase by 62 Bcf.
However, the inventories have fallen 4.6% on a YoY (year-over-year) basis. The inventories were 3,955 Bcf during the same week in the previous year.
Article continues below advertisement
Impact
For the week ending October 27, 2017, natural gas inventories were below the five-year average by nearly 1.1%. In March 2017, they were 21% above the five-year average. The inventories might be trying to rebalance towards historical average levels.
The EIA expects US natural gas inventories to fall ~4.2% below the five-year average in the coming months. It could have a positive impact on natural gas prices.
A rise in natural gas prices could benefit thermal coal (KOL) producers since it urges utilities like NextEra Energy (NEE) and Dominion Energy (D) to replace natural gas with coal.
The price fluctuations in natural gas could have a positive impact on US coal companies' margins like Arch Coal (ARCH) and Peabody Energy (BTU).
In the next part, we'll discuss how last week's inventory impacted natural gas prices.