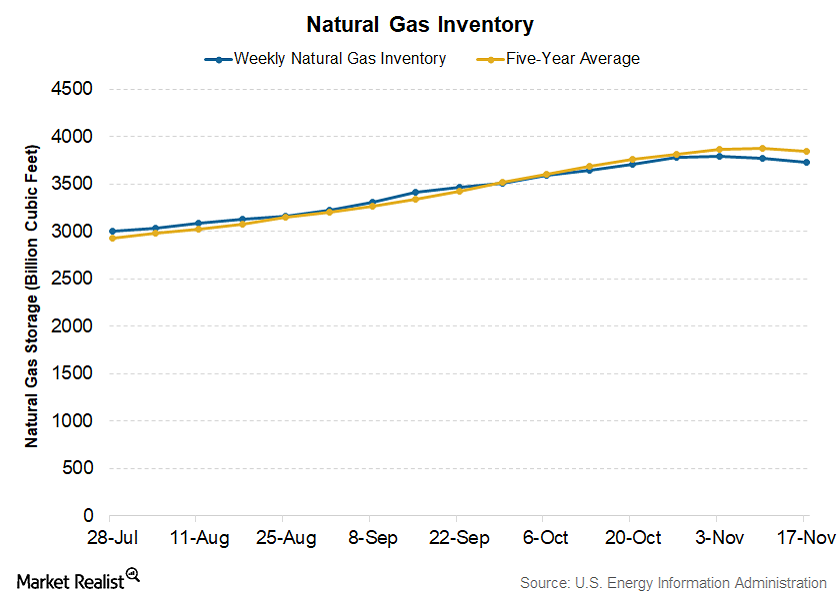 Natural Gas Inventories Fall: What Now for Coal?
Natural gas inventory
Natural gas inventory levels are an indicator of current natural gas prices. In this series, we'll review the natural gas inventory levels as reported by the EIA (U.S. Energy Information Administration), and how they have impacted natural gas and coal prices.
According to EIA estimates, the natural gas inventory for the week ended November 17 stood at 3,726 Bcf (billion cubic feet), which is 1.2% lower than the 3,772 Bcf recorded in the week ended November 10. The natural gas inventory fell 46 Bcf, whereas analysts had anticipated a fall of 51 Bcf.
The inventory fell 7.9% from the 4,045 Bcf reported during the same week in 2016. At 121 Bcf below the 3,847 Bcf five-year average in the week ended November 17, the inventory is within the five-year historical range.

Article continues below advertisement
Impact
In the week ended November 17, natural gas inventories were nearly 3.1% below the five-year average. Total natural gas consumption in the United States has risen. Higher demand for the fuel during the winter months and lower inventory levels may be beneficial for natural gas prices.
Utilities Duke Energy (DUK), and Southern Company (SO) may prefer coal if natural gas prices rise, which could benefit prominent coal (KOL) companies such as Alliance Resource Partners (ARLP), Cloud Peak Energy (CLD), and Westmoreland Coal (WLB). Next, we'll see if high demand and the limited supply of natural gas have boosted natural gas prices.