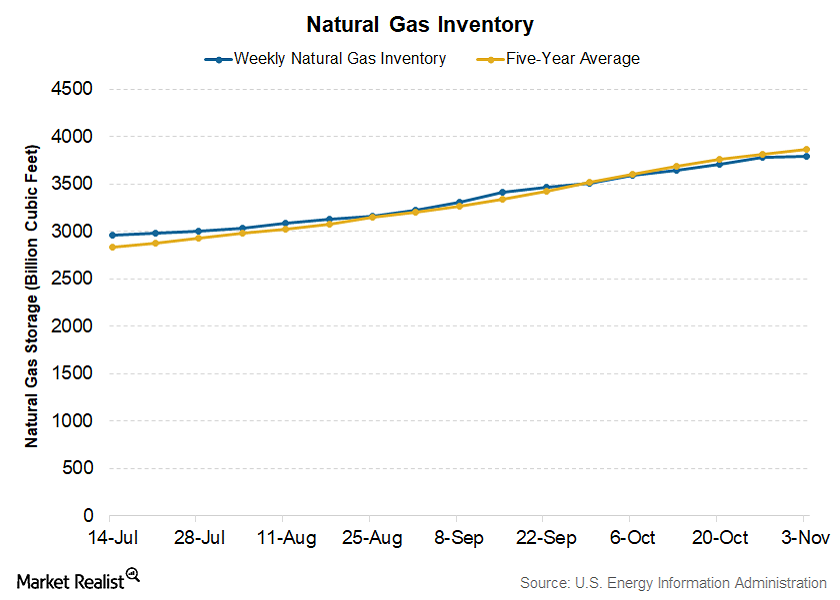 How Natural Gas Inventories Are Affecting Coal
Natural gas inventory
The EIA (U.S. Energy Information Administration) issued its latest natural gas inventory report on Thursday, November 9, 2017. In this series, we'll review the natural gas inventory for the week ended November 3, 2017. The latest natural gas inventory was 3,790 Bcf (billion cubic feet), which is 0.4% more than 3,775 Bcf for the week ended October 27, 2017. Natural gas inventory rose only 15 Bcf during the October 27–November 3, 2017, week.
On a YOY (year-over-year) basis, inventories fell 5.5%. It was 4,009 Bcf during the corresponding week in 2016.
Article continues below advertisement
Why is the EIA report important?
Commodity prices are typically dependent on supply and demand. If supply remains constant while demand rises, more buyers could chase each unit. So the price increases. On the contrary, if supply is more but demand for the commodity is limited, prices are likely to fall. In this case, the commodity is easily available. So the inventory level is a reflection of demand and supply trends. It's a useful metric in order to get a sense of natural gas prices.
Impact
For the week ended November 3, 2017, natural gas inventories were below the five-year average by ~1.8%. The storage level was 21% above the five-year average in March 2017. Natural gas inventories could be trying to rebalance with historic levels.
US natural gas inventories are expected to fall ~4.2% below the five-year average in the coming months, according to EIA forecasts. The fall may have a positive effect on natural gas prices.
Thermal coal (KOL) producers benefit when the price of natural gas rises since it encourages utilities such as Duke Energy (DUK) and NextEra Energy (NEE) to opt for coal over natural gas.
Some of the coal companies that are impacted by natural gas price fluctuations are Cloud Peak Energy (CLD), Peabody Energy (BTU), and Arch Coal (ARCH).
Next, let's have a look at how natural gas prices were impacted by last week's inventory level.