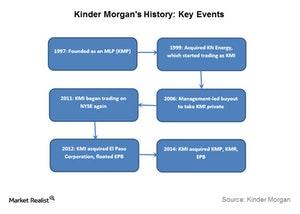 Kinder Morgan's Richard Kinder Earns Salary of $1 per Year
Kinder Morgan's beginnings
In this part, we'll go back into Kinder Morgan's (KMI) history, right from its foundation. It's a company that has grown through several acquisitions and structure changes. The company was formed in 1997 as KMP (Kinder Morgan Energy Partners) by Richard Kinder, who left Enron in 1996, and William Morgan by acquiring some of Enron's assets.
Richard Kinder and William Morgan utilized the MLP structure to form the largest publicly traded pipeline MLP in America. The company initially grew through acquisitions and later largely through expansion and new projects.
Article continues below advertisement
Expansion
In 1999, Kinder Morgan Energy Partners' management team acquired KN Energy, whose roots date back to 1936. Through this deal, the company also got ownership of Natural Gas Pipeline Company of America. KN Energy started trading on NYSE as Kinder Morgan.
KMI went private
In 2001, KMR (Kinder Morgan Management) was formed to facilitate institutional ownership of KMP. In 2006, Richard Kinder guided a management-led buyout to take KMI private, which closed in 2007. Kinder Morgan again began trading on NYSE in 2011 with a $3.3 billion IPO (initial public offering).
Consolidation
In 2012, Kinder Morgan acquired El Paso Corporation. As part of the transaction, KMI floated EPB (El Paso Pipeline Partners). In 2014, KMI acquired all of the publicly held shares or units of KMP, KMR, and EPB in a ~$76 billion transaction. Kinder Morgan is now one of the largest energy infrastructure companies in North America.
Richard Kinder, Kinder Morgan's executive chair, earns a salary of $1 per year. He also does not receive any bonus, stock options, or restricted stocks. Kinder owns nearly 11% of KMI's outstanding shares. President and CEO Steve Kean also gets an annual salary of $1.
Let's take a look at the company's assets in the next part of this series.