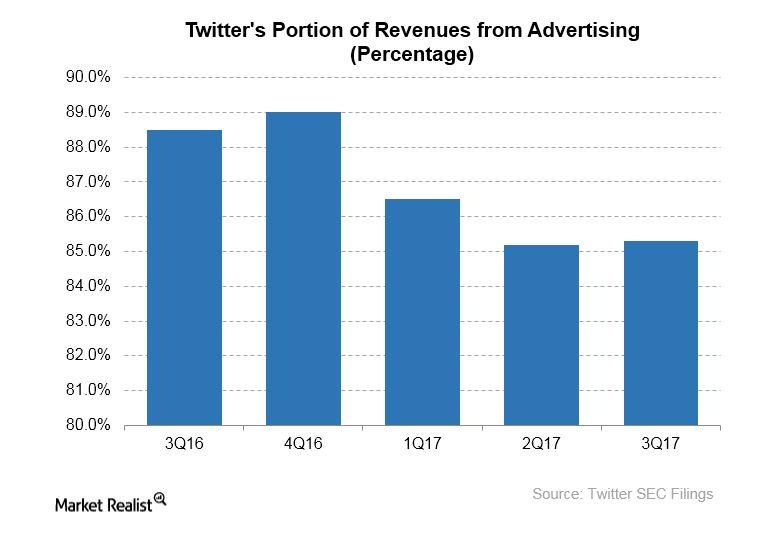 How Much Does Twitter Rely on Advertising?
By Neha Gupta

Dec. 4 2020, Updated 10:42 a.m. ET
Advertising comprised 85.3% of top line
After 3Q17, the picture that emerges is that Twitter (TWTR) has relied less on advertising for its revenues in recent quarters than it did in prior quarters.
In 3Q17, Twitter generated advertising revenues of $503.0 million. In that quarter, the company generated total revenues of $590.0 million. This figure implies that advertising sales accounted for 85.3% of Twitter's top line in 3Q17. Advertising sales contributed 88.5% of the company's top line in 3Q16.
Twitter garnered 85.2% of its revenues from advertising sales in 2Q17. Advertising sales comprised 88.9% of its revenues in 2Q16.
Article continues below advertisement
Diversifying to escape pressure
In the past few quarters, Twitter has relied less on advertising sales for its revenues. This fact could be viewed positively by investors who may have wanted to see the company diversify its revenue streams.
As digital advertising industry continues to grow, digital advertising spending has surpassed television advertising spending in the US (SPY). However, not everyone is pleased by this trend.
The growth of digital advertising industry is rapidly attracting more players, leading to stiff competition for digital advertising budgets. As competition for digital advertising dollars escalates, industry leaders such as Twitter, Facebook (FB), and Alphabet's (GOOGL) Google are expected to face more competitive pressure that could drive up their costs.
Twitter appears to be ahead in revenue diversification
To mitigate the impact of fierce competition for digital advertising budgets, reducing reliance on advertising sales has been viewed as a viable strategy.
When it comes to revenue diversification, Twitter appears to be faring better than Facebook, Alphabet, and Snap (SNAP). In 3Q17, advertising sales contributed 98.1% of Facebook's revenues, compared with 85.3% for Twitter.
Alphabet and Snap reported advertising sales of 86.7% and 98.1%, respectively, of their revenues in 3Q17.