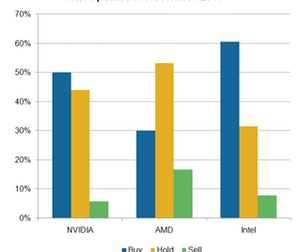 Why Morgan Stanley Is Bearish on AMD
By Puja Tayal

Updated
Morgan Stanley on AMD
Morgan Stanley analyst Joseph Moore is bearish on Advanced Micro Devices (AMD) because he believes that the company's two GPU (graphics processing unit) growth catalysts, cryptocurrency mining and gaming consoles, will decline in 2018. Moore is also doubtful about the Ryzen CPU's (central processing unit) ability to gain significant market from Intel.
Moore has thus lowered his price target for AMD from $11 to $8, representing a 30% downside from the current stock price of ~$11.0.
Cryptocurrency market
Moore stated that AMD's computing and graphics earnings have largely been driven by an unexpected surge in demand from cryptocurrency miners. He has stated that this growth is fading with ethereum mining down 80% in the past four months, and so he expects this slowdown to reduce AMD's GPU demand from cryptocurrency mining by 50%, or $250 million, in fiscal 2018.
In the company's fiscal 3Q17 earnings call, AMD CEO (chief executive officer) Lisa Su noted that the company is seeing some leveling off of some of cryptocurrency demand.
Counterarguments to Moore
While some analysts have agreed with Moore's argument, others argue that this alone is not a good reason to pull AMD down to $8 price target. Notably, AMD's primary market for GPUs is not cryptocurrency but gaming. The company even excluded the demand from cryptocurrency miners in its earnings forecast.
During the last bitcoin boom in 2012 and 1H13, AMD's revenue fell 17% YoY (year-over-year) in 2012, indicating that the company's revenue is not dependent on cryptocurrency demand.
When AMD launched its Vega, crypto miners took the entire inventory, leaving no GPUs for gamers and OEMs (original equipment manufacturers). As demand overtook supply, AMD's Vega GPUs were selling at higher prices and discouraging gamers to buy the GPU.
Notably, AMD doesn't benefit from these hiked prices because it doesn't sell its GPUs at inflated prices. ODMs (original device manufacturers) such as MSI, Asus, and Sapphire are the ones who inflate prices based on demand.
As crypto GPU demand fades, AMD's Vega GPUs will likely be available to gamers at reduced prices. A decline in cryptocurrency revenues will likely reduce AMD GPU revenue, in that case, but this decline would likely be offset by an increase in demand from gamers and OEMs.
In the next and final part of this series, we'll discuss AMD's Ryzen and game console prospects.