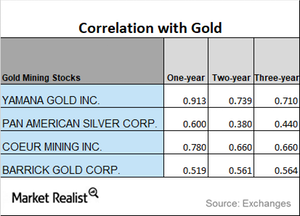 What the Miners' Correlation Figures Indicate
Correlation analysis
Gold is the most prominent precious metal, with a substantial influence on mining shares as well. When investors put their money in mining shares, it's important to understand the correlation of gold to these miners.
The chart below illustrates Agnico Eagle Mines (AEM), Primero Mining (PPP), Barrick Gold (ABX), and Eldorado Gold (EGO) and their correlations to gold. Among the mining funds that have a strong correlation with gold are the Global X Silver Miners ETF (SIL) and the SPDR Gold Miners ETF (SGDM). These two funds have five-day trailing gains of 3.9% and 2.0%, respectively.
Article continues below advertisement
Trend reading
If we look at the one-year correlation of miners, Barrick Gold has the lowest correlation with gold, while Eldorado Gold has the highest.
Among the four miners we're analyzing, only Eldorado Gold and Agnico Eagle Mines have seen an upward trend in correlation, while Barrick Gold has seen a downward trend in its correlation. Agnico Eagle's three-year correlation is 0.68, and its one-year correlation is 0.87.
A rise in correlation indicates that price changes in gold should play a role in the stock prices of mining stocks.
A correlation of 0.87 suggests that during the past one-year period, Agnico Eagle has been taking cues from gold ~87.0% of the time. This correlation means that a rise in gold leads to an increase in Agnico Eagle ~87.0% of the time.