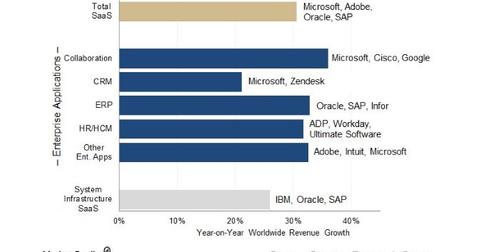 Is Microsoft Winning the Cloud Computing War?
By Ruchi Gupta

Updated
LinkedIn contributed $1.1 billion to top line
Microsoft (MSFT) said its cloud business exceeded $20 billion in annual revenue run-rate in fiscal 1Q18 (September quarter). That indicates that its cloud business has grown faster than the company expected.
According to Synergy Research Group, Microsoft is leading the enterprise SaaS (Software as a Service) subset of cloud computing. That indicates that Microsoft is sitting above Oracle (ORCL) and Alphabet's (GOOGL) Google in the SaaS market.
Microsoft's position in the enterprise SaaS market got a boost from its acquisition of professional networking site LinkedIn. Microsoft said LinkedIn contributed $1.1 billion to its top line in the latest quarter.
Article continues below advertisement
SaaS growth path remains long and wide
Since spending on SaaS is relatively small compared to on-premise enterprise software spending, Synergy says that SaaS growth will remain strong for many years. As such, Synergy forecasts that the SaaS market will double in size in the next three years. The SaaS market was estimated at $15 billion in 2Q17.
Given Microsoft's leading position in the enterprise SaaS market and the projected robust growth of the SaaS market in the coming years, the company's cloud revenue growth could accelerate.
Cloud revenue rose 14%
Microsoft reported Intelligent Cloud revenue of $6.9 billion in 1Q18, a 14% rise YoY (year-over-year). It's in the Intelligent Cloud segment that Microsoft reports Azure sales, which rose 90% YoY.
Azure is Microsoft's cloud business that's most comparable to Amazon's (AMZN) Amazon Web Services (or AWS), whose revenues rose 42% YoY to $4.6 billion in 3Q17. Oracle and International Business Machines (IBM) reported that their cloud revenues rose 51% and 20% YoY, respectively, in the quarters that are comparable to Microsoft's fiscal 1Q18. Although Google doesn't break out its cloud sales, its Google Other revenues, which include cloud sales, rose 40% YoY in its September quarter, the period comparable to Microsoft's fiscal 1Q18.