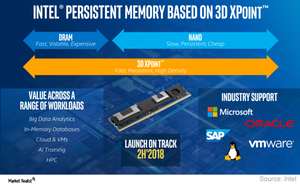 How Memory Partners Intel and Micron Became Competitors
Intel-Micron joint venture
Intel (INTC) has started cashing out on complimentary products such as non-volatile memory and FPGA (field-programmable gate arrays)—segments that are more or less stable because the majority of the output is consumed by Intel itself. This also enables Intel to design custom memory and FPGAs that suit its requirements.
Intel operates in the non-volatile memory space through a JV (joint venture) with Micron Technology (MU). The JV developed a new 3D XPoint memory technology in 2015. The technology is faster than NAND (negative AND) and less volatile than DRAM (dynamic random-access memory).
The two companies started developing memory products on 3D XPoint technology separately. Intel launched its first 3D XPoint-based product under the Optane brand in early 2017, whereas Micron is still developing 3D XPoint-based products and plans to launch them in 2018 under the QuantX brand.
The JV completed the expansion of its fabrication facility in Utah, where the 3D XPoint products of both companies will be produced.
Article continues below advertisement
Intel's 3D XPoint memory products 
In 2017, Intel launched its 3D XPoint-based Optane DC P4800X SSD (solid state drive) for data center, its Optane 3.2 Memory sticks for HDD (hard-disk drive) caching, and its Optane SSD 900P for desktops. The Optane DC P4800X SSD is priced at $1,520, whereas the new Optane SSD 900P is priced between $350 and $600, depending on the memory capacity.
After storage SSD products, Intel plans to launch NVDIMMs (nonvolatile dual in-line memory module) based on its 3D XPoint technology.
Intel's new 3D XPoint DIMMs 
Intel gave the first glimpse of the 3D XPoint NVDIMM prototype at the Storage Visions Conference in January 2016. The next update came in its fiscal 3Q16 earnings call, when CEO (chief executive officer) Brian Krzanich stated that 3D XPoint would feature in Intel's second-generation Purley platform.
The latest update came at the UBS Global Technology Conference in November 2017, where Intel Data Center Group manager Navin Shenoy stated that 3D XPoint DIMMs are on track to launch in 2H18. Analysts expect more updates on the 3D XPoint DIMMs at the CES (Consumer Electronics Show) in January 2018.
The 3D XPoint DIMMs would have a much higher density than the DDR4 (double-data rate) and perform the function of a memory-mapped device. As the 3D XPoint DIMMs are unlikely to operate as standard DDR4 DIMMs, they would require an updated CPU (central processing unit) and motherboard.
Intel's Xeon Scalable platform supports DRAM+flash NVDIMM-N modules. Intel might launch a refresh of the Xeon Scalable platform in 2018, when it launches 3D XPoint DIMMs, and Intel expects the 3D XPoint DIMMs to be an $8-billion opportunity by 2021.
Next, we'll discuss Intel's FPGA business.