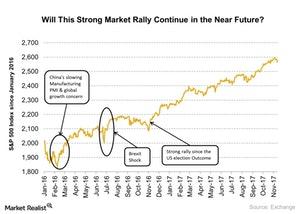 Mario Gabelli on the Bull Market: Where Are We Now?
Mario Gabelli in an interview with CNBC
In an interview with CNBC's Halftime Report on November 9, 2017, Mario Gabelli, the CEO and chair of Gabelli Funds, shared his views on market movement, fiscal policy, and his infrastructure and multimedia stock picks.
According to Mario Gabelli, the market rally has been mainly driven by earnings growth and various fundamental factors. Gabelli believes fiscal stimulus is necessary to stimulate economic activity and keep markets moving higher.
Article continues below advertisement
Market since US election
Since the US presidential election in November 2016, the expectation for infrastructure development, tax reform, and deregulation has been increasing. However, Mario Gabelli said that none of these things have materialized in the past year. On the other hand, monetary policy is tightening. The gradual rate hikes could suggest that the market (IVV) (SPX-INDEX) needs support in the form of fiscal policy to sustain its rally.
Without fiscal stimulus, it could very difficult for the market to show robust improvement. According to Gabelli, corporate tax deduction won't be enough for the economy (QQQ) (IWM) or for the market (SPY). He believes a territorial tax system is also important for the economy.
In the next part of this series, we'll analyze Gabelli Funds' largest holdings in 3Q17.