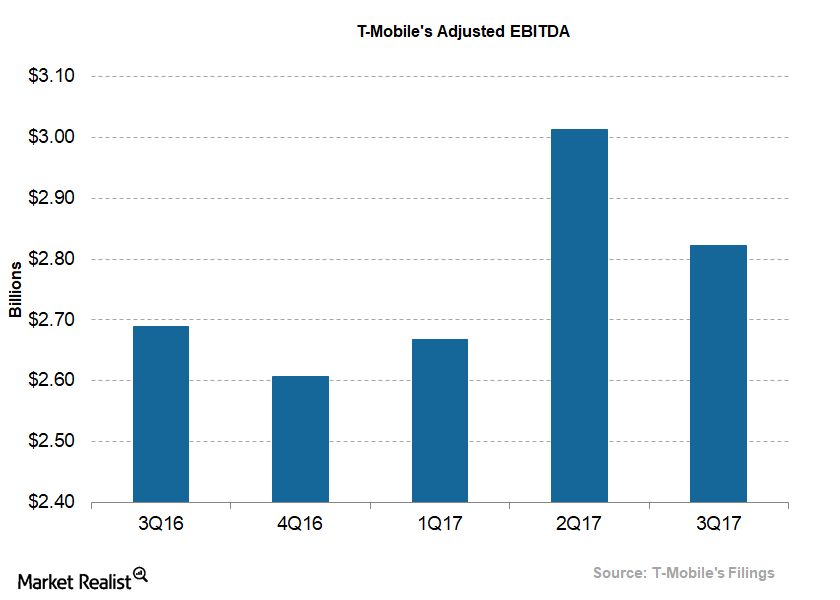 Mapping T-Mobile's Earnings Trend in 3Q17
T-Mobile's EBITDA trend
In 3Q17, T-Mobile's (TMUS) adjusted EBITDA (earnings before interest, tax, depreciation, and amortization) expanded significantly on a YoY (year-over-year) basis, from ~$2.7 billion in 3Q16 to ~$2.8 billion in 3Q17. This growth was primarily due to lower losses on equipment and higher service revenues.
T-Mobile's adjusted EBITDA margin fell to 37% in 3Q17 from 38% in 3Q16, mainly due to lower gains on the disposal of spectrum licenses. T-Mobile's operations in Texas, Florida, and Puerto Rico experienced $148.0 million in adjusted EBITDA losses during 3Q17 due to hurricanes.
Article continues below advertisement
Peer EBITDA margin comparison for 3Q17
According to company filings, Verizon Communications (VZ) reported a consolidated adjusted EBITDA margin of 36.7% for 3Q17, while AT&T's (T) combined domestic wireless EBITDA margin was 42.0% during the same quarter. Sprint (S) reported a consolidated adjusted EBITDA margin of 45.7% in fiscal 2Q17 (quarter ending September 2017).
Notably, Sprint is enjoying higher margin than competitors due to significant cost reductions and higher equipment contributions.
In the next part, we'll look at T-Mobile's postpaid phone customer net additions.