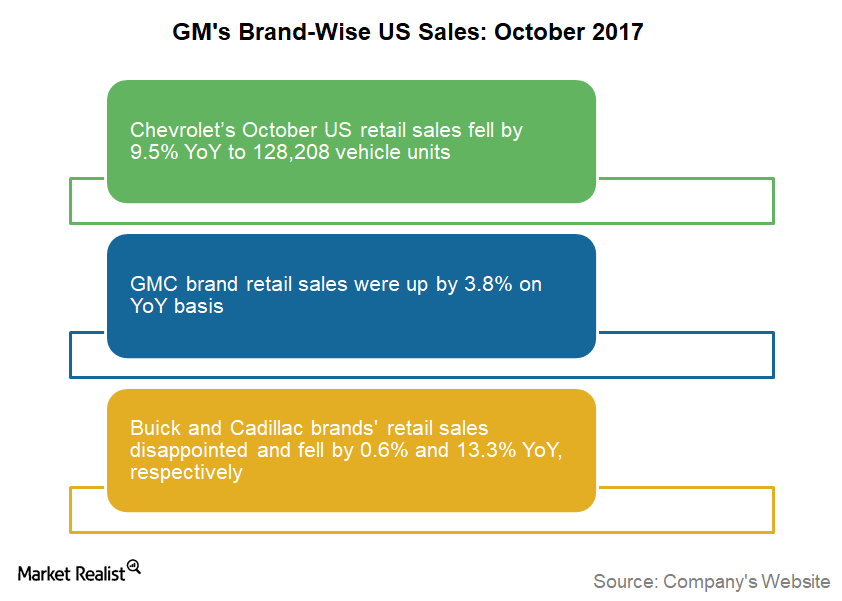 Could Lower Chevrolet Retail Sales Affect GM's 4Q17 Earnings?
GM's October 2017 retail sales
In the first ten months of 2017, General Motors' (GM) Chevrolet brand's retail sales were down 1.2% YoY (year-over-year). Also, Chevrolet's total US sales fell 0.9% YoY. After a recovery in September, Chevrolet retail sales fell again in October, which hurt GM's total US retail sales for the month. Let's take a closer look.
Article continues below advertisement
Brand-wise sales in October 2017
Retail sales for the company's key brand, Chevrolet, fell 9.5% YoY to 128,208 vehicle units in October, much lower than September's retail sales of 151,792 units. As a result, Chevrolet's total sales fell 3.8% YoY in October.
The GMC brand's total US sales (IYK) rose 6.6% YoY to 44,630 units. Similarly, the GMC brand's retail sales rose 3.8% YoY to 38,434 units.
The Buick brand sold 19,142 units in October, down 4.5% YoY. Of these, 17,255 units (a 0.6% fall YoY) were sold to US retail customers.
For the Cadillac brand, US sales of vehicles were flat, with a minor weakness of 1% YoY. Its retail segment sales fell notably, by 13.3% to 10,615 units.
Chevrolet brand recovery halted
Since General Motors' early years, the Chevrolet brand has been the largest contributor to its sales. Following the solid recovery seen in August and September, weaker Chevrolet sales in October could be worrisome. Extended weakness in Chevrolet brand retail sales could affect the company's 4Q17 earnings.
The Chevrolet brand plays a key role in GM's competition with Ford Motor (F), Fiat Chrysler Automobiles (FCAU), and Toyota Motor (TM) in the US auto market. Continue to the next part for a look at what analysts are recommending for GM and Ford.