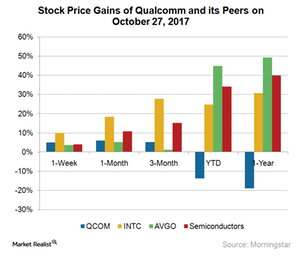 A Look at Qualcomm's Stock Performance in 2017
Qualcomm's stock underperforms the market
Qualcomm (QCOM) is currently in the middle of legal and regulatory headwinds that have eclipsed its progress on the Snapdragon SoC (system-on-chip) and 5G technology and the overall optimism in the semiconductor industry (SMH).
Qualcomm was among the few semiconductor stocks that fell when the semiconductor industry was outperforming the S&P 500 Index (SPY) by a huge margin. Since the start of 2017, Qualcomm's stock has fallen 13.7%, underperforming semiconductor stocks, which have risen 34%, while the S&P 500 Index has risen 17%. Rivals Intel (INTC) and Broadcom (AVGO) have risen 24.6% and 44.8%, respectively, YTD (year-to-date).
Article continues below advertisement
Stock price movements impact QCOM-NXP deal
The overall optimism in the semiconductor industry has also boosted NXP Semiconductors' (NXPI) stock price by 19.3% YTD, and NXP is now trading at ~$117.0, which is 6% above Qualcomm's offer price of $110. This price increase has encouraged activist investors to demand a higher price per NXP share from Qualcomm.
But over the past few days, there's been positive momentum in Qualcomm's stock. On October 20, 2017, Qualcomm's stock witnessed a trading volume of 35.9 million, compared with its average daily volume of 7.8 million. On the next trading day, the stock price rose 2.6%, following Qualcomm's extended tender offer for NXP stock and assurance to investors that the deal would remain on track for completion.
Long-term price trends
As a company grows larger and more mature, its stock appreciation slows and its dividend increases, and it's been no different for Qualcomm and Intel. The prices of the two stocks have grown 32% and 70% in the past ten years, while growth stocks like NVIDIA (NVDA) and Micron (MU) have more than doubled in the past year.
At the same time, mature stocks have stable cash flows and can pay a higher dividend. Qualcomm and Intel are among the top five dividend stocks in the semiconductor industry, while Micron does not pay a dividend at all.
Not much stock price appreciation is expected during Qualcomm's fiscal 4Q17 earnings in November 2017, but the stock price could rise significantly if the NXP deal is completed—or if the Apple (AAPL) lawsuit is settled in Qualcomm's favor.
In the next and final part, we'll discuss what analysts think about Qualcomm stock today.