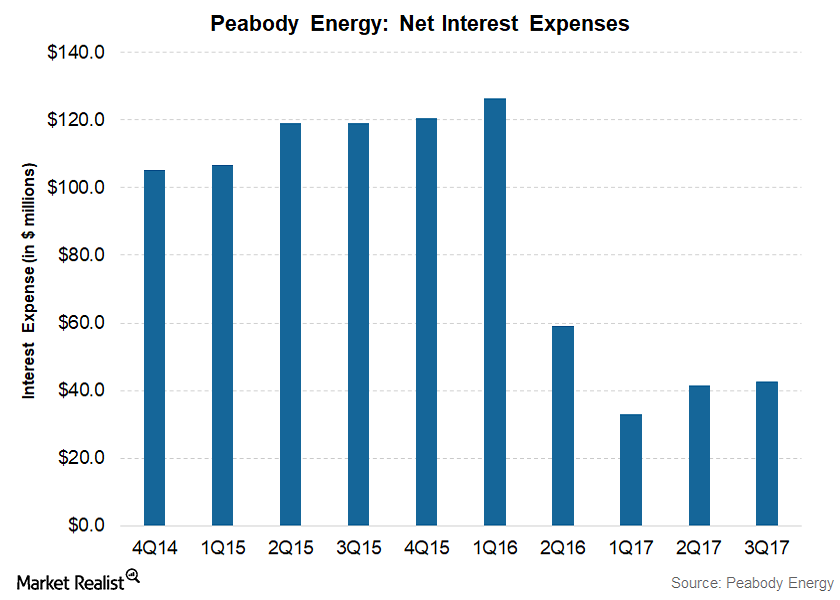 A Look at Peabody Energy's Liquidity Position
Interest expenses
According to recent company filings, the book value of Peabody Energy's (BTU) indebtedness is ~$1.7 billion. In 3Q17, BTU repaid $300 million of its term loan that was targeted to be completed by the end of fiscal 2017 as part of the company's plan of deleveraging ahead of the due date.
Cloud Peak Energy (CLD), Consol Energy (CNX) and Alliance Resource Partners (ARLP) are some of the major coal (KOL) mining companies that have low leverage positions compared to Peabody Energy.
During 3Q17, Peabody Energy reported $42.4 million as interest expenses, which was higher than the estimated $38.1 million. Its debt level and interest expenses remained stable after exiting from bankruptcy. The debt restructuring plan reduced the company's interest expenses.
Article continues below advertisement
Off-balance sheet risk
Peabody Energy's (BTU) off-balance sheet risks are cash collateral, surety bonds, and bank guarantees. As of September 30, 2017, BTU had $538 million as restricted cash collateral, which is related to certain coal mine renovation obligations. During 3Q17, Peabody released $25 million worth of cash collateral.
Snapshot of Peabody Energy's liquidity position
According to the latest company filings as of September 30, 2017, Peabody's liquidity totaled $942.7 million, which consisted of $925 million in cash and $17.7 million available under the company's accounts receivable securitization facility. In 3Q17, Peabody generated positive operating cash flow of $239 million, which was used to pay $135 million of the Chapter 11 bankruptcy exit and settlement fees.
Liquidity outlook
Peabody Energy expects to sell its inactive Burton Mine for ~$11 million in 2018. The sale could reduce the company's asset retirement obligation by ~$53 million and free up ~$30 million in restricted cash. It's expecting to sell 50% of its Millennium Mine.