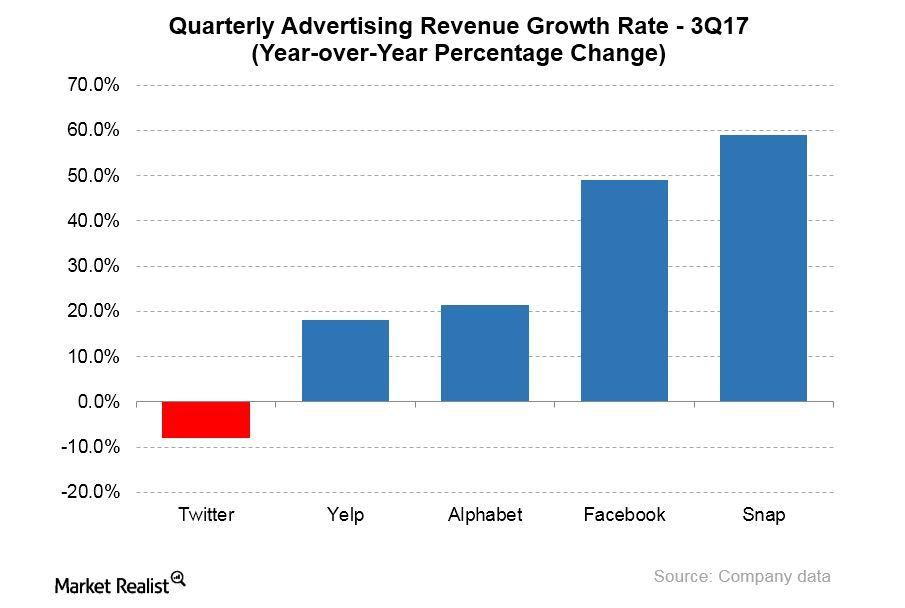 A Look at Facebook's Advertising Business
Advertising business grew 49% YoY
Facebook's (FB) advertising business, which contributed more than 98% of its total revenue in 3Q17, recorded a 49% YoY (year-over-year) rise in ad sales. That was a faster growth than in 2Q17. Facebook's advertising sales increased 47% YoY in 2Q17.
In 1Q17, Facebook's advertising sales increased 51% YoY. Advertising sales increased 59% and 53% in 3Q16 and 4Q16, respectively.
Article continues below advertisement
Facebook grew ad sales faster than most of its rivals
Factors in play
The increase in Facebook's advertising sales in 3Q17 was partially supported by an increase in average advertising prices. Facebook said its ad prices rose 35% YoY on average for the quarter, which was more than the 24% YoY increase in average ad prices in 2Q17.
The rising ad prices also suggest a strong, growing demand for Facebook's advertising products, which is allowing the company to charge higher rates without the risk of turning away advertisers. Facebook said it now has more than 6 million active advertisers. In April 2017, Facebook announced that it had 5 million active advertisers.