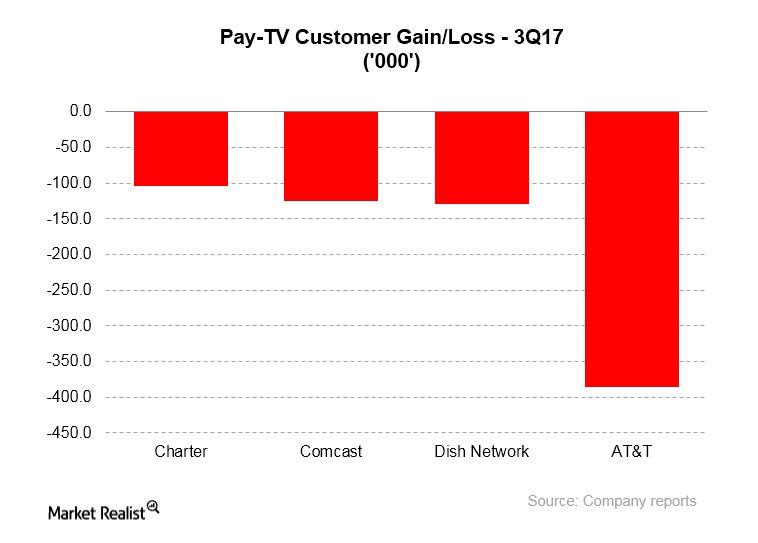 A Look at Dish Network's Customer Base
Dish shed 129,000 pay-TV customers
Dish Network (DISH), Comcast (CMCSA), and Charter Communications (CHTR) are facing a rough road in the traditional pay-TV market amid the rise of online video services offered by Netflix (NFLX) and Amazon (AMZN).
There was no reprieve for Dish Network in 3Q17 in terms of pay-TV subscriber losses. The company shed 129,000 pay-TV customers in 3Q17, having lost 196,000 pay-TV customers in 2Q17.
Article continues below advertisement
Cord-cutting disruption
While traditional pay-TV companies recorded customer losses in 3Q17, Netflix said it added 5.3 million customers during the quarter. Although Amazon doesn't disclose the size of its Prime Video membership, Consumer Intelligence Research Partners (or CIRP) estimates that it added 5.0 million Prime subscribers in 3Q17. Prime Video is offered as part of the Prime membership package.
Increased competition among traditional pay-TV companies coupled with disruption from cord-cutting (the loss of customers to online video services) is seen as causing pay-TV providers like Dish Network and Comcast to lose subscribers.
Sling TV did little to stem loss of pay-TV customers
Dish Network's reported pay-TV customer metrics include subscribers on its Sling TV, a streaming video service that starts at $20.00 per month.
Dish Network and AT&T responded to the cord-cutting threat by launching their own streaming video services. Dish launched Sling TV, while AT&T launched DIRECTV NOW.
Looking at how these companies fared in 3Q17, it appears their streaming video services have done little to stem the loss of pay-TV subscribers.