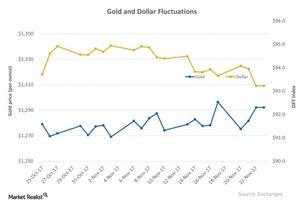 What Led to a Revival in Precious Metals on Monday?
Precious metals rise
All the four precious metals rose on Monday, November 27. Gold futures for December expiration were up 0.55% to close at $1,294.4 an ounce. Silver also joined the league and rose 0.16% to close at $17.1 per ounce. Platinum and palladium were up 0.57% and 0.74% to close at $949.2 and $1,001 per ounce.
The uptrend in these metals was most likely due to the weakness in the US dollar with respect to the stronger euro. The strength of the euro was due to stronger business confidence in Germany. The DXY Index has fallen almost 1.3% during the past five trading days. During that period, gold, silver, platinum, and palladium rose 1.5%, 1%, 3%, and 1.5%, respectively.
Article continues below advertisement
Dollar slump
The relationship between gold and precious metals is pretty much inverse as the metals are all dollar-denominated assets. A cheaper dollar means investors from other countries can buy the metals at a more affordable rate, thus a potential rise in demand.
The relationship between these two variables is visible in the above chart, which depicts the price changes in gold and the dollar over the past one month.
The changes in the US dollar (UUP) also affects mining stocks. Some of the mining stocks that rose on Monday include Aurico Gold (AUQ), Newmont Mining (NEM), New Gold (NGD), and Sibanye Gold (SBGL). These stocks were up 3.6%, 1.2%, 0.32%, and 1.1%, respectively.