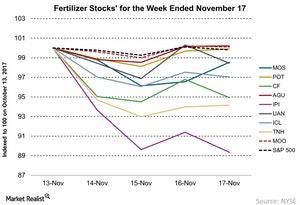 Latest Update on Fertilizer Price Movements
By Adam Jones

Updated
Sector performance
In the week ending November 17, 2017, the VanEck Vectors Agribusiness ETF (MOO) ended the week slightly higher by 10 basis points, while the S&P 500 Index (SPY) fell by 18 basis points during the same period. Most of the agricultural fertilizer stocks also ended the week in negative territory.
Stock performance
Last week, most of the fertilizer stocks in the above chart ended the week lower. Intrepid Potash (IPI) emerged as the biggest loser with its stock falling as much as 10.6% to $3.6. Terra Nitrogen (TNH) fell 5.8% and closed at $81.2. CF Industries (CF) fell 5.1% to $35.8, while Israel Chemicals (ICL) fell 3% to $3.9.
The remaining four stocks were CVR Partners (UAN) with a fall of 1.6% to $3.1, Mosaic (MOS) with a fall of 1.5% to $23, and PotashCorp (POT) with a fall by 10 basis points to $19.1.
Among the above stocks, Agrium (AGU) was the only stock that ended higher. It rose by 22 basis points at $106.8.
To compare how some of these companies performed in 3Q17, read Comparative Analysis of Fertilizer Companies' 3Q17 Earnings.
YTD performance
So far this year, most of the stocks we looked at above have underperformed the S&P 500 Index and the VanEck Vectors Agribusiness ETF. The S&P 500 Index has returned 14.7% YTD (year-to-date), while the Agribusiness ETF (MOO) has returned 16.1%.
Among the companies in the above chart, CVR Partners has emerged as the top loser YTD. Its stock has fallen as much as 51%. Terra Nitrogen has fallen 22.6%, while Mosaic has fallen 22% YTD. Israel Chemicals was also in negative territory last week with a loss of 4.2% YTD.
Intrepid Potash was the top gainer YTD with a gain of 71%. CF Industries returned 12.3%, Agrium returned 6.6%, and PotashCorp returned 5.2%.
Series overview
Fertilizer prices are the driving force behind the performance of the above companies. In this series, we'll discuss the fertilizer price movements for the week ending November 17.