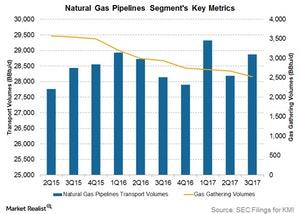 Kinder Morgan's Natural Gas Transport Volumes Are Recovering
Transport volumes
Kinder Morgan's (KMI) natural gas transport volumes rose 3% YoY (year-over-year) in 3Q17. According to the company, the increase was driven by higher throughput from incremental contracts serving Mexico and contracts effective after 3Q16. Higher throughput on the El Paso Natural Gas system due to additional Permian capacity sales and the completion of an expansion project and higher throughput on Elba Express due to the system's expansion also contributed to the rise in natural gas transport volumes in 3Q17.
Article continues below advertisement
Kinder Morgan noted that objective analysts project US natural gas demand, including net exports of LNG (liquefied natural gas) and exports to Mexico, will increase by more than 30% to over 100 billion cubic feet per day by 2026. The company believes that there are abundant growth opportunities for its natural gas infrastructure, driven by more demand for gas-fired power generation, LNG exports, demand from the petrochemical industry, and exports to Mexico.
Gathering volumes
Kinder Morgan's Natural Gas Pipelines segment's natural gas gathering volumes fell 14% YoY in 3Q17. The fall was primarily due to impacts from Hurricane Harvey and lower volumes on its Eagle Ford systems. As the graph above shows, lower Eagle Ford volumes impacted the segment's performance over the last few quarters.
The declining volumes have likely concerned investors. The lower volumes were reflected in the Natural Gas Pipelines segment's EBDA (earnings before depreciation and amortization), which we discussed in the previous part of this series.
In the next part, we'll analyze how Kinder Morgan's distributable cash flow and dividends have grown recently.