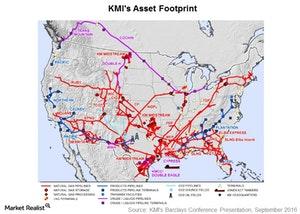 Kinder Morgan Transports 40% of Natural Gas Consumed in America
Operations
Kinder Morgan (KMI) is one of the largest midstream energy companies in the US. It owns or operates ~84,000 miles of pipelines and 155 terminals. Its pipelines transport natural gas, refined petroleum products, crude oil, condensate, CO2, and other products, and its terminals trans-load and store petroleum products, ethanol, and chemicals. Nearly 40% of the natural gas consumed in America is transported through KMI's network of pipelines.
KMI is also a big producer of carbon dioxide, which is utilized for enhanced oil recovery projects, mainly in the Permian Basin.
Kinder Morgan carries out its operations through five segments: Natural Gas Pipelines, CO2, Terminals, Products Pipelines, and Kinder Morgan Canada. The above map shows KMI's asset footprint.
Article continues below advertisement
Asset highlights
Some notable points relating to Kinder Morgan's assets are:
It has the largest natural gas network with ~70,000 miles of natural gas pipelines. KMI's natural gas pipeline system is connected to key US natural gas resource plays including the Eagle Ford, Marcellus, Utica, Fayetteville, Haynesville, and Barnett.
It is the largest independent transporter of petroleum products, transporting about 2.1 million barrels of product per day. KMI moves gasoline, jet fuel, diesel, crude, and NGLs (natural gas liquids).
It is the largest transporter of carbon dioxide, transporting about 1.3 billion cubic feet per day.
It is the largest independent terminal operator. KMI's liquids terminals store refined petroleum products, chemicals, and ethanol, and have a capacity of 152 million barrels. Its dry bulk terminals store coal, petroleum coke, and steel, and handle over 53 million tons per year. KMI also has a Jones Act shipping position with 12 vessels in service.
KMI owns the only oilsands pipeline serving the West Coast, the Trans Mountain pipeline. It currently transports 300,000 barrels per day to Vancouver and Washington State. Its proposed expansion will increase that capacity to 890,000 barrels per day.
Kinder Morgan has nearly 11,000 employees. Kinder Morgan's customers include oil companies, energy producers and shippers, and local distribution companies.
In the next parts, we'll discuss Kinder Morgan's recent operational performance and key balance sheet metrics. Let's begin with an analysis of the company's segmental performance.