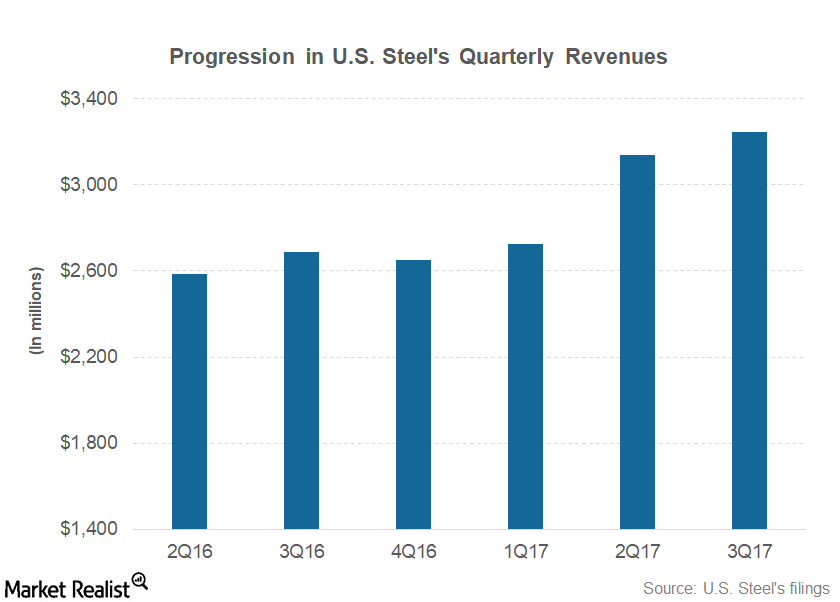 Key Takeaways from U.S. Steel's 3Q17 Results
U.S. Steel's 3Q17 financial performance
U.S. Steel Corporation (X) released its 3Q17 earnings on October 31. In this article, we'll look at some key takeaways from the company's 3Q17 financial performance.
Article continues below advertisement
Revenue
U.S. Steel generated revenue of $3.3 billion in 3Q17, compared with $3.1 billion in 2Q17 and $2.9 billion in 3Q16. U.S. Steel's 3Q17 revenue rose on a yearly and sequential basis and beat estimates. AK Steel's (AKS) 3Q17 revenue fell from the previous quarter, and Nucor's (NUE) and Steel Dynamics' (STLD) revenue was almost flat.
Shipments
U.S. Steel shipped 3.8 million tons of steel to outside customers in 3Q17, compared with 3.7 million tons in 3Q16. The company's 3Q17 flat rolled shipments were similar to those of 3Q16, while its Europe shipments fell from 1.1 million tons to 1.06 million tons. U.S. Steel's tubular segment reported a sharp increase in its 3Q17 sales, with shipments rising from 103,000 tons in 3Q16 to 185,000 tons in 3Q17. We've seen a gradual uptick in U.S. Steel's tubular shipments with a healthy steel demand from the energy sector. However, we've also seen an increase in OCTG (oil country tubular goods) imports over the last year. According to U.S. Steel, imports made up more than 50% of OCTG demand in 3Q17.
All three of U.S. Steel's business segments reported a year-over-year increase in ASPs (average selling prices). US steel prices rose between 3Q16 and 3Q17, boosting steel companies' (MT) 3Q17 ASPs. In the next article, we'll look at U.S. Steel's 3Q17 profitability.