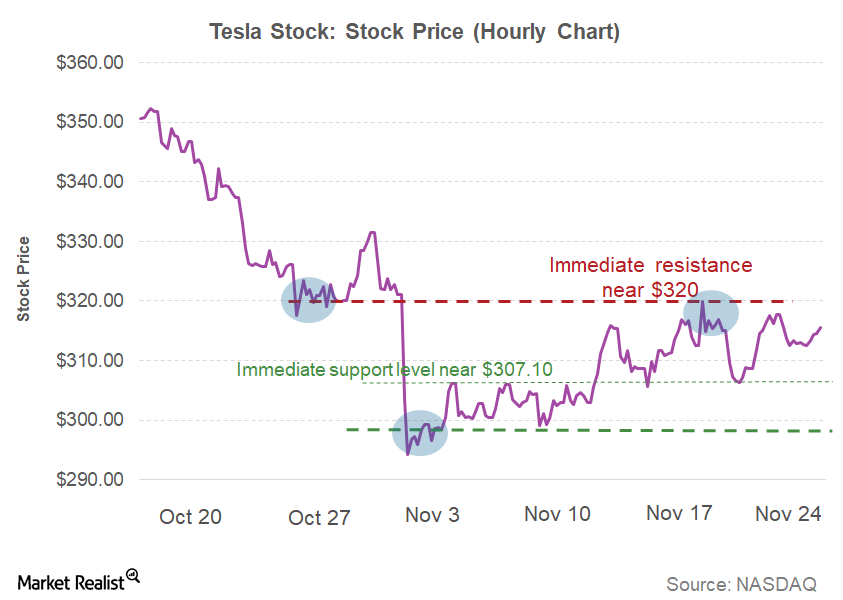 Key Levels to Watch in Tesla Stock in the Final Week of November
Tesla stock
Last week (ended November 24), Tesla (TSLA) stock traded on a mixed note and ended the week with a 0.2% gain, compared with the 0.9% rise seen by S&P 500 Index (SPY) (SPX-INDEX). TSLA stock posted an all-time high near $389.61 on September 18. Since then it has lost 19% as of November 24.
On November 16, TSLA unveiled its first electric semi truck with better-than-expected specifications in a high-voltage event. However, the stock is still struggling to maintain positive momentum.
Article continues below advertisement
Technical overview
As of November 24, Tesla stock was trading at $315.74 on a mixed note. Its 14-day RSI (relative strength index) level was staying below the line of equilibrium at 46.9, reflecting an underlying neutral bias in momentum. On the positive side, the stock was still trading above its 50-week SMA (simple moving average) at 307.1, which was acting as an immediate support level.
An important resistance area is near $320, and a violation of this level could attract fresh buying. Tesla stock might find key support near $298 on the downside.
Recent fundamentals
During its semi truck unveiling event, Tesla head Elon Musk claimed that its new semi is much faster, more powerful, and cheaper to operate than other diesel trucks on the market. While the Tesla Semi's impressive specifications made the crowd cheer during the event, it also attracted criticism by many analysts and experts. These experts slammed TSLA for diverting its focus from resolving its Model 3 production bottlenecks.
Notably, Tesla's first mass-market electric car, the Model 3, faced production bottlenecks in 3Q17. Due to these production issues, the company had to postpone its high-volume production plans to 2Q18. For this reason, any positive update on Tesla's Model 3 production could turn investor sentiments toward positive.
TSLA reported its biggest quarterly loss in 3Q17. The company's YoY (year-over-year) revenue growth rate fell to 30% from over 100% in the previous two quarters.
Interestingly, Tesla's annual production volume is just a fraction of the annual production volumes of automaking (XLY) peers General Motors (GM), Ford Motor (F), and Toyota Motor (TM).
Now let's check in with how Ferrari stock traded last week.