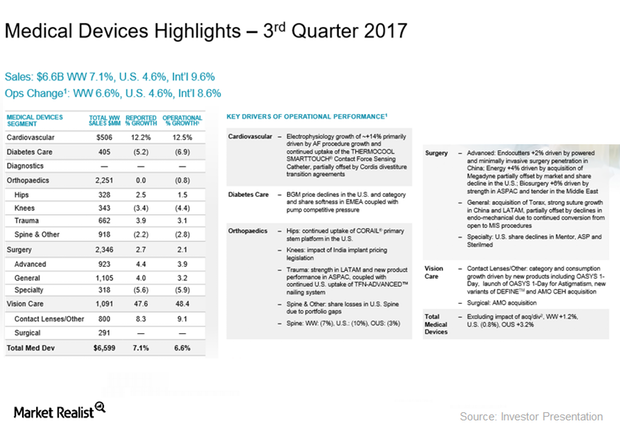 How JNJ's Medical Devices Business Restructuring Efforts Are Panning Out
Medical Devices' 3Q17 performance
In 3Q17, Johnson & Johnson (JNJ) reported ~$19.7 billion in sales. The company's Medical Devices business generated ~33.5% of the total sales, amounting to ~$6.6 billion.
The segment's sales rose ~7.1%, on a YoY (year-over-year) basis. On an operational basis, the segment's sales rose ~6.6% in 3Q17.
JNJ acquired TearScience, a vision care services company, and completed the divestiture of Codman Neuro in 3Q17. After excluding the impact of the acquisitions and divestitures, JNJ's Medical Devices segment reported sales growth of ~1.2%.
Article continues below advertisement
In the US, the segment's sales reported YoY growth of ~0.8%, while international sales rose ~3.2%. The segment witnessed strength across its electrophysiology, biosurgery, wound closure, and hips and trauma divisions. However, diabetes, spine, and knee sales saw a decline in 3Q17. JNJ is working on a robust commercial execution of some of the recent product launches across these divisions, which are expected to accelerate growth.
Peers Stryker (SYK), Abbott Laboratories (ABT) and Becton, Dickinson, and Company (BDX) registered sales growth of ~6.1%, 28.8%, and -2.1%, respectively, in their recently reported quarters. Investors interested in exposure to JNJ can invest in the Vanguard Value ETF (VTV), which has ~3.2% of its total holdings in JNJ.
Factors impacting this segment's growth
JNJ's Medical Device segment sales growth was negatively impacted by the hurricanes in Florida, Texas, and Puerto Rico in 3Q17. The continued weakness in spine sales impacted the segment's performance as well, as did India knee implants price cuts.
In the diabetes subsegment, continued price declines for blood glucose monitoring devices in the US and competitive pressures in the insulin pump category were key headwinds. In the wake of these factors, JNJ announced its plans to exit the insulin pumps business on October 5, 2017.
We'll discuss these developments in detail in the following parts of this series (below).