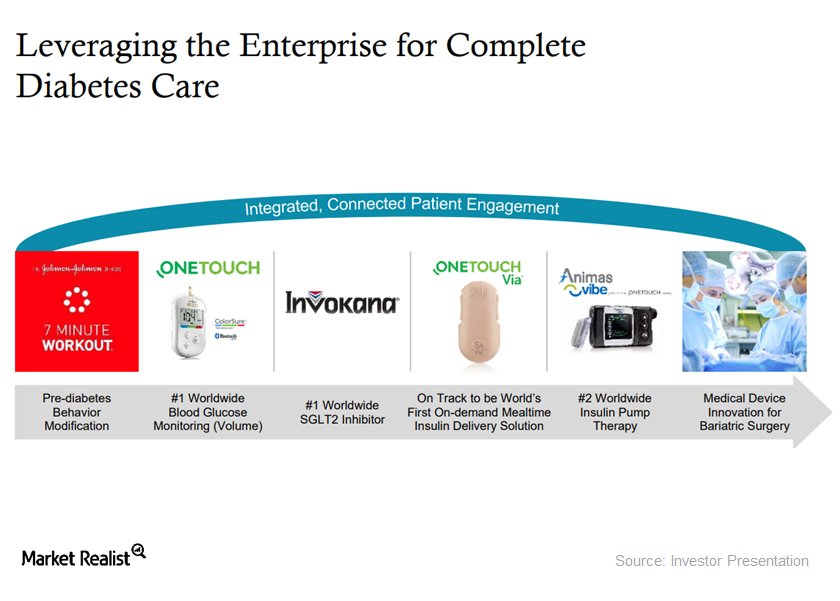 JNJ Exits Insulin Pump Business amid Stiff Competition
By Sarah Collins

Nov. 20 2017, Updated 9:02 a.m. ET
Overview
On October 5, 2017, Johnson & Johnson's (JNJ) diabetes care company, Animas, announced its plans to exit the insulin pump business. JNJ will soon stop manufacturing and selling its Animas Vibe and OneTouch Ping insulin pumps and close all related operations.
The decision is expected to benefit Medtronic (MDT), which already is a leading player in the insulin pump and supplies market in the US—a market estimated to be worth $3.5 billion, according to Diabetic Investor.
JNJ is facilitating a transition arrangement to Medtronic's devices to its customers. According to JNJ, ~90,000 patients now use JNJ's Insulin pumps and supplies.
On the day of the announcement (October 5), JNJ's stock price rose ~0.23%, while Medtronic stock rose ~0.09%. The iShares Core S&P 500 ETF (IVV) fell ~0.11% the same day, and JNJ makes up ~1.7% of IVV's total portfolio holdings.
In January 2017, JNJ announced a strategic review process for its diabetes care companies, as its diabetes business has been registering a sales fall for the past few quarters.
JNJ is now evaluating its strategic options for LifeScan, another subsidiary, which provides diabetes care solutions. LifeScan offers OneTouch products, which have established the company as the leader in blood glucose monitoring worldwide.
Article continues below advertisement
Competition in the insulin pumps market
Medtronic is the leader in the insulin pumps market, with a ~60% market share. It has further strengthened its market position with the recent launch of one-of-its-kind automated insulin delivery system, MiniMed 670G.
But the insulin pump market has recently witnessed major consolidation. In 2015, Asante discontinued selling its Snap insulin pump. In January 2017, Roche stopped the sales of its Accu-chek insulin pump in the US, and in August, the company handed over its remaining customers to Medtronic.
Tandem (TNDM) is a California-based company that sells t:slim and t:flex insulin pumps, but the company is struggling with capital troubles, according to its latest earnings results. After the exit of JNJ, Medtronic and Insulet (PODD) remain effectively the only two active players in the US insulin pump market.
In the next part, we'll take a look at how pricing reforms in the medical technology sector worldwide are impacting JNJ.