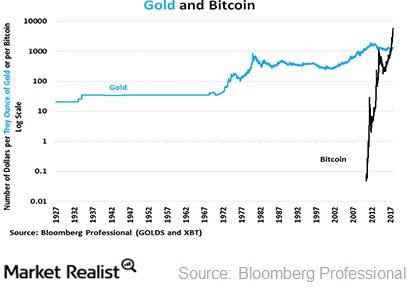 Why Jamie Dimon Thinks Bitcoin Is a Fraud
Bitcoin
The demand for bitcoin is rising rapidly. The cryptocurrency is gradually being accepted by various investors and market participants. The virtual currency works without any central administrator or repository.
Many hedge funds and institutional investors are putting their money in this virtual currency. Recently, legendary investor Bill Miller said he is buying bitcoin. In fact, in an interview with CNBC, Miller said that 30% of his asset allocation is currently in bitcoin. The sudden rising interest in bitcoin is due not only to the investments of hedge funds and institutional investors but also to small investors from South Korea and Japan (EWJ) (DXJ) who are showing interest.
Article continues below advertisement
Jamie Dimon on bitcoin
However, Jamie Dimon, chief executive officer of JPMorgan Chase (JPM) has called bitcoin a fraud. He said he won't allow his bank to trade in the virtual currency.
Bitcoin's performance
Since 1970, investors have invested in gold (GLD) as a safe-haven instrument. When international turmoil arises, gold typically outperforms other asset classes. Between February 1971 and October 2017, gold has risen from $34 per ounce to $1,280 per ounce, which is nearly a 3,500% improvement.
Bitcoin also showed a strong performance. Between July 2010 and October 2017, it rose ~6,000,000%, from $0.08 in July 2010 to $6,121 in October 2017. Bitcoin was introduced on January 3, 2009.
In the next part of this series, we'll analyze the performance of the S&P 500 index (SPY) (SPX-INDEX).