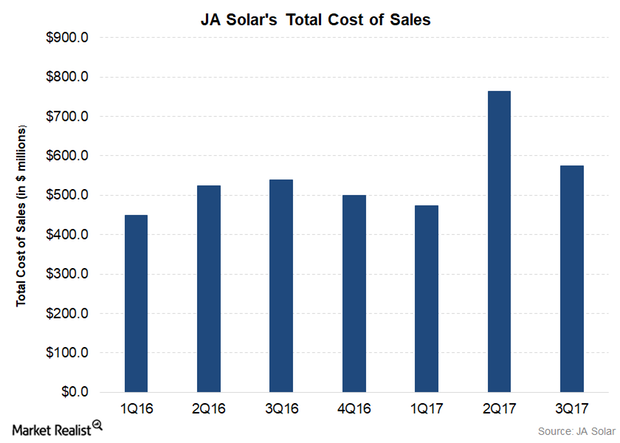 JA Solar's Costs in 3Q17 and How That Affected Its Bottom Line
Segment-wise cost performance
JA Solar Holdings' (JASO) solar module manufacturing segment makes up a notable portion of the company's total cost of sales. The cost of sales of JASO's module and solar cell segments mainly consists of raw materials, direct labor costs, and shipping and handling costs.
Article continues below advertisement
JA Solar's overall cost performance
JASO's total cost of sales for 3Q17 was $575.4 million compared to $778.9 million in 2Q17 and $539.3 million in 3Q16. However, the total cost of revenue as a percentage of net revenue rose to 88.2% in 3Q17 from 86.2% in 3Q16 and 87.1% in 2Q17.
JA Solar's gross margin
In 3Q17, JASO posted a gross margin of 11.8%, a fall from 13.8% in 3Q16 and 12.9% in 2Q17. According to company filings, JASO has been able to maintain a gross margin in the low teens through stringent cost-control measures in an unfavorable pricing situation of wafers and polysilicon. A fall in gross margins implies a decline in the profitability of operations.
JA Solar's adjusted net income
JA Solar reported a net operating income of $6.3 million for 3Q17 compared to $6.6 million in 3Q16 and $20.2 million in 2Q17. Net income decreased primarily due to the higher cost of sales on a year-over-year basis.
Solar module manufacturing is a capital-intensive process. In order to raise minimal cost capital, it's critical for upstream solar (TAN) companies such as First Solar (FSLR), JinkoSolar Holding (JKS), and Canadian Solar (CSIQ) to maintain healthy balance sheets.
In the next part of this series, let's take a look at JA Solar's leverage and liquidity position.