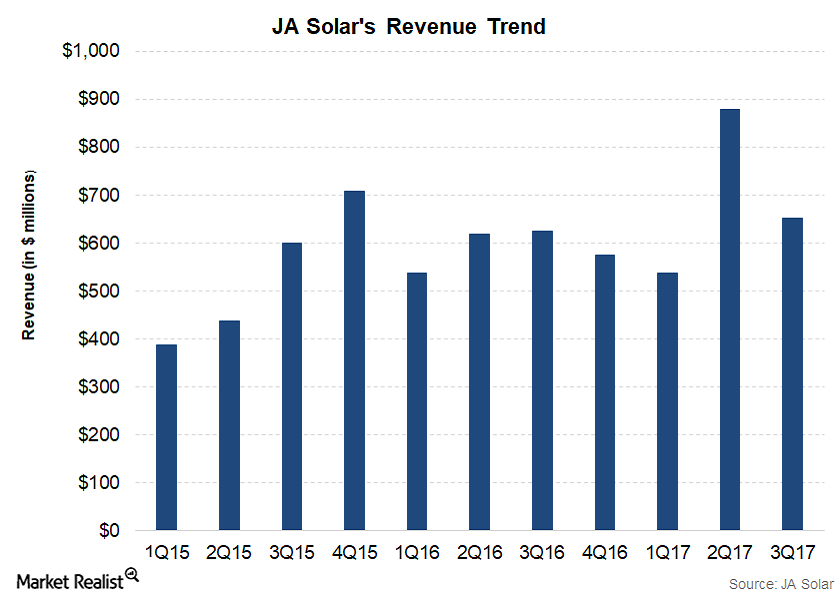 How JA Solar Beat Analysts' 3Q17 Revenue Estimates
Revenue from operating segments
JA Solar Holdings (JASO) derives its revenues from the sale of solar modules and cell products, power generation, and solar product processing. The major portion of the company's revenues is from the sale of solar modules. Revenue generation from solar product processing services is negligible. For fiscal 2016, solar product processing services didn't generate any revenues.
Article continues below advertisement
JA Solar's 3Q17 revenue
In 3Q17, JA Solar reported total revenues of $652.6 million compared to $878.2 million in 2Q17 and $624.3 million in 3Q16. The company beat analysts' revenue expectations of $582.3 million for 3Q17 by ~12%. Its total revenue rose 4.3% on a YoY (year-over-year) basis and fell 27.1% on a QoQ (quarter-over-quarter) basis.
Why was there a deviation?
JA Solar beat analysts' revenue expectations primarily due to an increase in shipments on a YoY basis. As we've already seen, its shipments came in at 1,640.9 MW (megawatts) in 3Q17, which was higher than 1,240.9 MW in 3Q16.
The sale of solar modules is largely dependent on market conditions. As a result, revenue recognized from the sale of modules by upstream solar (TAN) companies JA Solar, Canadian Solar (CSIQ), First Solar (FSLR), and JinkoSolar Holding (JKS) might fluctuate from quarter to quarter.
In the next part of this series, we'll take a look at JA Solar's cost performance for 3Q17.