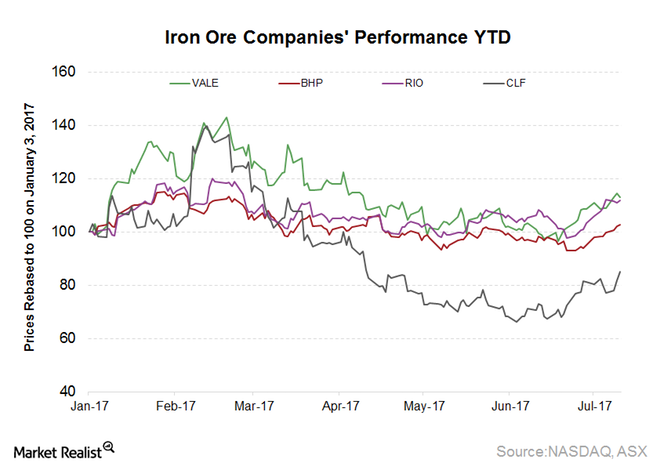 Iron Ore Miners' Take on the Commodity Price Outlook
Iron ore miners' take
BHP (BHP) has mentioned that China's demand for high-quality iron ore (XME), as well as new demand from countries such as India, should support overall demand for iron ore. According to BHP's CEO, Andrew Mackenzie, while China's automotive and housing sectors are expected to weaken, its infrastructure sector should remain strong. Mackenzie also maintained that China's desire to improve the environment by making the industry more efficient, particularly in steelmaking, should help generate high premiums for high-quality iron ore, coal, and copper.
Article continues below advertisement
During the release of its 1H17 results, Rio Tinto's (RIO) CEO, Jean-Sébastien Jacques, stated that the Chinese economy has performed well in 2017. He added that early signs for 2018 remain positive and that China's steel industry's order books remain full, which is a positive indicator for the demand of high-grade iron ore.
What do Vale and Fortescue have to say?
During its 3Q17 earnings, Vale (VALE) said it believes the iron ore market will stay in balance. Peter Poppinga, Vale's executive director of the Ferrous Minerals and Coal division, noted that iron ore prices are expected to exceed $65 per ton. He cited the forward curve on the Dalian Stock Exchange, observing that after restrictions on steel production are canceled, prices could rise.
Referring to the contango in the iron ore futures market, Fortescue Metals Group's (FSUGY) CEO, Nev Power, remarked that restrictions by Chinese authorities constitute significant intervention. He added that the pent-up demand after winter months should be significant, which should drive the prices up. Currently, Fortescue is getting more impacted than its iron ore peers, mainly because of its lower-quality ore, which has started attracting a higher discount.