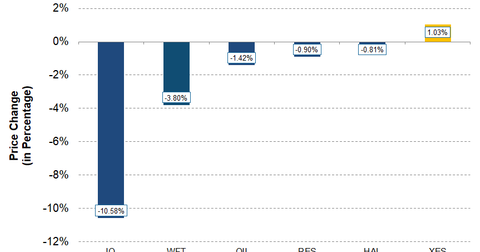 ION Geophysical Fell the Most in the Oilfield Services Industry
By Nicholas Chapman

Updated
Oilfield services losers
In this article, we'll look at the oilfield services (or OFS) sector in the US from November 20, 2017, to November 22, 2017. We have considered oilfield services companies with market capitalizations of over $100 million and with average volumes above 100,000 shares last week.
ION Geophysical fell the most
In the week starting November 20, 2017, ION Geophysical (IO) fell the most among stocks in the oilfield services sector. So far, IO has fallen from $14.65 to $13.10, a decrease of ~11%, during the week. The company didn't make any stock-moving press releases during the week. The decline in IO this week looks like a consolidation of the gains from its post-earnings rally. Since its earnings were announced on November 1, ION Geophysical is up by ~68%. In 3Q17, IO beat the EPS estimates by $0.78 in 3Q17. IO reported an adjusted profit of $0.41 per share, whereas the Wall Street analyst consensus was for a loss of $0.37 per share.
Currently, IO is trading above its 50-day and 200-day moving averages and its 50-day moving average stands above its 200-day moving average, indicating a positive technical posture. As of November 22, ION Geophysical is trading at $13.10, whereas its 50-day and 200-day moving averages stand at $10.39 and $6.17, respectively.
Moving down: WFT, OII, RPS, HAL
On the list of decliners for the current week, ION Geophysical (IO) is followed by Weatherford International (WFT), Oceaneering International (OII), RPC Incorporation (RPC), and Halliburton (HAL). WFT, OII, RPC, and HAL are down by 3.8%, 1.4%, 0.90%, and 0.81%, respectively, this week.
Two weeks back, Halliburton (HAL) announced a cash dividend of $0.18 per share on its common stock. This dividend is payable on December 28, 2017, to stockholders of record as of December 8, 2017.
In general, there is positive sentiment about the oilfield services stocks this week, which is evident in the 1.0% gain by the SPDR S&P Oil & Gas Equipment & Services ETF (XES). The ETF represents an index of stocks from the oilfield services industry. In comparison, the SPDR S&P 500 ETF (SPY) is up 0.74% in the current week.