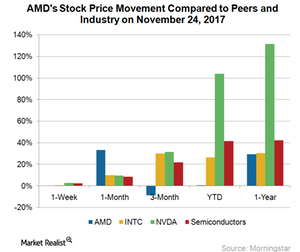 How Investor Sentiment Is Weighing on AMD's Stock Price
By Puja Tayal

Updated
Reason behind AMD's stock declines
There's no denying that Advanced Micro Devices (AMD) is on the right course with data center, video games, cloud computing, and now, AI (artificial intelligence). Despite this, AMD stock reacted negatively to its strong fiscal 3Q17 earnings, while NVIDIA's (NVDA) and Intel's (INTC) stocks reacted positively to their respective earnings.
This is likely because AMD's stock price rose on the anticipation that its new products would help the company gain some market share from Intel and NVIDIA. But now that all the new products have hit the market, AMD stock has fallen to $11.38—its level at the end of December 2016.
AMD's Ryzen failed to gain market share from Intel in the gaming segment of PCs (personal computers), and production issues surrounding its Vega reduced AMD's ability to compete with NVIDIA on the price front.
Article continues below advertisement
Investor concerns for 2018
AMD's 2017 revenues rose on the launch of its Ryzen, Threadripper, and Vega products. If we look at 2018, after the Ryzen Mobile ramp in fiscal 1Q18, growth will likely come from AMD's ability to take CPU (central processing unit) market share from Intel and GPU market share from NVIDIA.
This has put a great burden on AMD's EPYC and Radeon Instinct to prove themselves in the data center space, where both Intel and NVIDIA have an even more dominant position than they have in the PC market.
AMD is likely to increase its market share and earnings in coming quarters, but that growth won't likely be sufficient to sustain a $12 stock price. This is because the stock is fundamentally overvalued at its current trading price of above $11.0. AMD likely needs to report higher growth or assure investors of higher growth in order to boost the stock price.
Article continues below advertisement
Opportunity in disguise
That said, some bullish analysts and investors believe that AMD's stock price fall is an opportunity to buy, as the stock has long-term growth catalysts. Technical analysts have stated that it's natural for a stock to consolidate a little after growing more than 300% in 2016.
The stock is now facing resistance between $15.0 and $15.5. If AMD's stock moves to this resistance level, it would represent an upside potential of 32% from its current trading volume.
Internet fund manager Tony Mitchell has AMD in his top five positions. In an interview published in Forbes, Mitchell stated that he bought AMD because it is in the right industry at the right time. AMD is a well-known brand, and the company is working toward recovery.
While short-term headwinds might pull the stock down, the industry (SMH) in which it operates brings strong growth opportunities for the company. In the next five years, chips will be everywhere and in everything, and so all AMD has to do, some believe, is stay competitive with rivals Intel and NVIDIA in order to grow earnings.