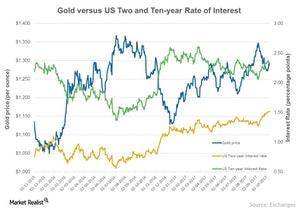 Interest Rate Rise or No Rise: Where Precious Metals Could Move
By Meera Shawn

Nov. 29 2017, Published 10:28 a.m. ET
Non-yield bearers
We've looked at the dollar and the market volatility impact on gold and other precious metals. Now let's look at the impact of a change in the interest rate on precious metals.
Market participants were eyeing the Fed's meeting minutes that came out on Wednesday, November 22, 2017. Precious metals have a negative relationship to interest rates. Since the interest offered on U.S. Treasuries is set to rise, more investors could lean toward yield-bearing assets, thus deserting the non-yield paying metals such as gold and silver.
Article continues below advertisement
The Fed's minutes
The Fed's minutes turned out to be more dovish than expected, although the December rate hike seems to be a given. Many Fed members are expecting interest rates to rise in the near term, but a few of them remain cautious regarding the inflation outlook, which they watch closely.
In the next part of this series, we'll briefly discuss the relationship of gold and inflation, giving insight into the directional move that gold could take.
Overall, the pace of an interest rate hike (SHY) (IEF) plays a major role in the directional movement of precious metals. Speculations in the market are suggesting that the Fed may not tighten its policy as aggressively as it thought earlier. This likely caused a slump in the dollar on Wednesday, November 22, 2017, supporting precious metals.
Gold hoarders are staying cautious as the Fed's December meeting is only two weeks away. The mining sector (GDXJ) (ABX) (NEM) (GG) (AGI) could also have a negative impact on an interest rate hike.