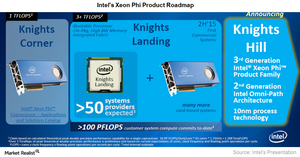 Why Intel Is Revising Its Data Center Product Roadmap
Intel revises its data center product roadmap
The technology industry is now going through a major shift toward AI (artificial intelligence), which has significantly changed data-processing needs, and Intel (INTC) is moving along with the trend with new data center offerings. It's also been revising its product roadmap to suit the changing needs of customers.
In 2006, Intel tried to develop its own GPU (graphics processing unit) architecture, codenamed Larrabee, but this failed. The company used the learning from the project to build architecture with an integrated GPU, codenamed Knights Ferry, which was followed by Knights Corner and Knights Landing.
Article continues below advertisement
Intel discontinues Knights Hill
Knights Hill was next in line. But Intel's general manager of its Data Center Group, Trish Damkroger recently announced that the company had scrapped Knights Hill. Intel is now building another processor, Knights Mill, to handle AI and deep-learning workloads. Knights Mill is still under development.
The news of the Knights Hill discontinuance comes after Intel revised its contract with the US Department of Energy. Under the original contract, Intel was supposed to deploy a pre-exascale machine with a 180-petaflop performance at the Argonne National Laboratory by 2018. Under the revised contract, Intel has to deliver a machine with a 1-exaflop performance by 2021.
Damkroger did not give any details about the new global exascale platform but stated that it would be designed to support the convergence of HPC (high-performance computing), big data, and AI—which has raised several speculations about the new platform.
Intel's new exascale platform
Some analysts believe that Intel's new exascale platform will incorporate Nervana's deep learning technology. Below are a few related speculations:
Some believe the new platform would be a fully integrated hardware acceleration featuring Intel's own GPU (graphics processing unit) variant. This speculation comes as Intel has recently hired Advanced Micro Devices (AMD) GPU head, Raja Koduri, to develop discrete GPUs for AI and other applications.
Others believe that Intel will develop an ultra-heterogeneous architecture that integrates Altera's FPGA (field programmable gate array), a GPU, and other workload-specific accelerators.
Other analysts believe that Intel might completely scrap the Xeon Phi architecture and use the learning to develop a Xeon-Nervana hybrid chip by 2020.
At the same time, some analysts speculate that Knights Hill is just the beginning and that more such products will be discontinued in the future.
In the meantime, Qualcomm (QCOM), IBM (IBM), and AMD are challenging Intel in its traditional server processor market. We'll discuss this competition in the next part.