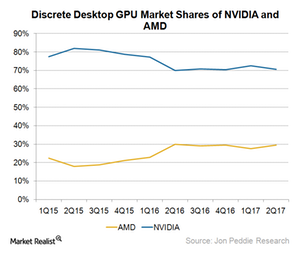 Why Did Intel Poach AMD's Raja Koduri?
Intel poaches AMD's GPU talent
Intel's (INTC) partnership with Advanced Micro Devices (AMD) comes as the former has created a new segment, the Core and Visual Computing Group, which plans to focus on high-end graphics cards. What comes as a surprise is that Intel has appointed AMD's Radeon Technology Group chief architect, Raja Koduri, as the chief architect and senior vice president of this new group and general manager of edge computing initiatives.
Radeon Technology Group is AMD's graphics division that makes GPUs (graphics processing units) that are competitive with that of NVIDIA (NVDA).
Article continues below advertisement
Rival stocks react to appointment news
This appointment saw AMD's and NVIDIA's shares fall 7.7% and 3.2% in two days from the date of the announcement. The share of the two GPU makers reacted more aggressively on the appointment news than the partnership news because the Intel-AMD partnership didn't impact the competitiveness of the two companies and posed no material threat to NVIDIA's business.
But Raja Koduri's appointment shows that Intel is venturing into the discrete GPU space and is likely to develop products that are competitive with those of AMD and NVIDIA. Moreover, Intel stated that it would expand the application of discrete GPUs beyond PC (personal computer) gaming and into AI (artificial intelligence) and automotive.
Intel's chief engineering officer, Murthy Renduchintala, stated that Raja Koduri would help Intel advance its computing and graphics strategy and be instrumental in driving the growth of its data-centric business.
Why did Intel choose Raja Koduri?
Raja Koduri has more than 20 years of experience in graphics technology, with 12 years of experience in discrete graphics cards used by AMD. He created the Radeon Technology Group at AMD in 2015. This group developed Polaris and Vega GPUs, which are competitive with NVIDIA's Maxwell and Pascal GPUs and increased AMD's share in the discrete GPU market. Koduri helped AMD expand the application of Radeon cards beyond PC and into all-in-one chips, workstations, servers, and gaming consoles.
Before AMD, Raja Koduri worked at ATI Technologies, where he headed the team that developed discrete graphics chips. In 2006, ATI Technologies was acquired by AMD to get an exposure in the GPU space. Koduri was away from AMD for four years (between 2009 and March 2013) as he joined Apple's (AAPL) graphics architecture division, where he developed retina screen displays for iPhones and graphics-based platform for Macs.
Raja Koduri will likely join Intel in December 2017. His experience in developing a graphics division from scratch for AMD, and Apple will likely be instrumental in making Intel the third player in the discrete GPU market.
In response to Raja Koduri's departure, AMD stated that it has a strong graphics team and advanced graphics IP (intellectual property). The company warned that it would defend its IP if the need arises, hinting that it might resort to lawsuits to protect its IP.
Next, we'll see how Intel could benefit from discrete GPUs.