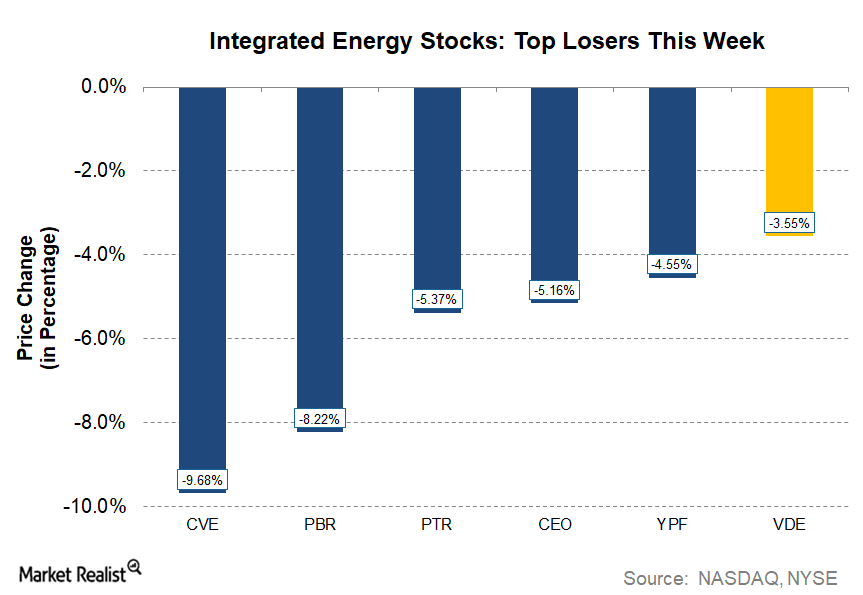 Integrated Energy Losers This Week: CVE, PBR, PTR, CEO, and YPF
Integrated energy stocks
As of November 15, 2017, all of the integrated energy stocks are in negative territory for the current week. In this part, we'll discuss the top losers from the integrated energy sector in the US for the week starting on November 13, 2017.
Article continues below advertisement
Cenovus Energy
Cenovus Energy (CVE) is the biggest loser this week from the integrated energy sector. It has fallen from last week's close of $11.26 to $10.17 on November 15—it has fallen 9.7%.
While there hasn't been a new release from Cenovus Energy, its stock has fallen every day this week. Cenovus Energy reported upbeat 3Q17 earnings on November 2. It reported an adjusted EPS of $0.24 and beat Wall Street analysts' EPS estimates of $0.15. After its 3Q17 earnings were announced, Cenovus Energy rose ~10% in six trading sessions. However, the fall this week flattened its post-earnings rally.
In the medium term, Cenovus Energy has been in a strong uptrend since the end of June 2017. Since then, it has risen ~50%. At the beginning of November, Cenovus Energy successfully cleared its 200-day moving average after three failed attempts in the last two months. Currently, Cenovus Energy has strong support at its 200-day moving average, which stands at $9.74.
Other losers
The other integrated energy losers this week are Petrobras (PBR), PetroChina (PTR), China National Offshore Oil (CEO), and YPF Sociedad Anonima (YPF). They have fallen 8.2%, 5.4%, 5.2%, and 4.6%, respectively, this week.
Petrobras started to fall on Tuesday after the company announced its 3Q17 earnings before the market opened. In 3Q17, Petrobras reported revenues of ~$22.70 billion—higher than Wall Street analysts' consensus of ~$22.05 billion. However, Petrobras missed the EPS estimates by $0.11 in 3Q17. Petrobras reported an adjusted profit of $0.02 per share, while Wall Street analysts' consensus was for profit of $0.13 per share. After the earnings were announced, Petrobras fell ~9% in one trading session on Tuesday.
This week, the Vanguard Energy ETF (VDE) has fallen 3.6%. VDE has exposure to integrated heavyweights like ExxonMobil (XOM) and Chevron (CVX). In comparison, the SPDR S&P 500 ETF (SPY) has fallen 0.64% this week.