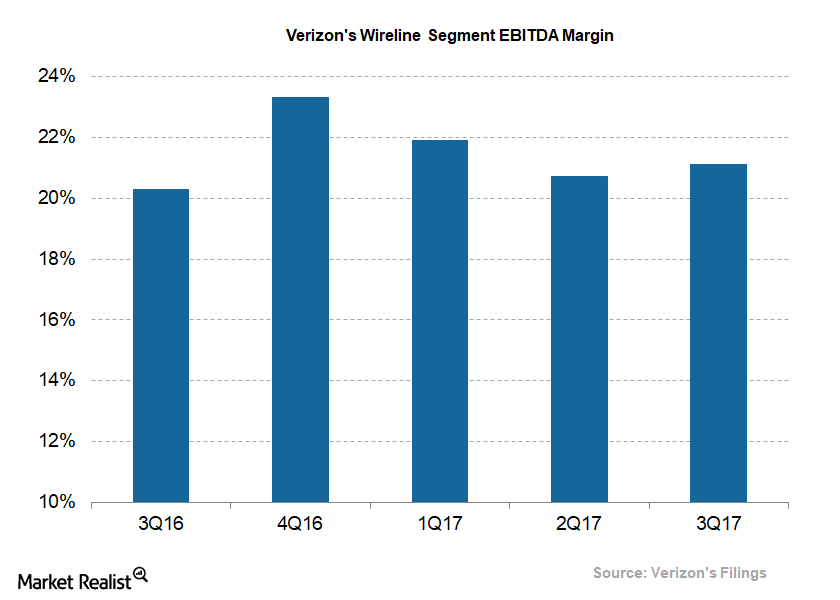 Inside Verizon's Wireline Segment Earnings Trend
Verizon's Wireline segment EBITDA margin
Verizon Communications' (VZ) Wireline EBITDA (earnings before interest, tax, depreciation, and amortization) came in at $1.6 billion in 3Q17, compared with $1.5 billion in 3Q16. The segment's EBITDA margin was 21.1% in 3Q17, up from 20.3% in 3Q16 and up from 20.7% in 2Q17.
The improvement in the Wireline segment's EBITDA margin was primarily driven by ongoing cost-control initiatives.
Verizon forecasts that new labor contracts negotiated due to the strike in 2016 could generate total cash savings of ~$500 million from 2017 to 2019. As a result, Verizon is positive about its wireline component EBITDA margin growth in 2017, though it expects seasonal fluctuations throughout the year.
Article continues below advertisement
Verizon acquires XO Communications
To bolster its FiOS business, Verizon acquired XO Communications for $1.8 billion. XO Communications will provide Verizon with fiber-optic networks in some US markets.
The XO Communications acquisition offers dense metro-fiber assets in approximately 40 major US markets. In 2Q16, the telecom company divested its wireline operations in the CTF (California, Texas, and Florida) region to Frontier (FTR) for about $10.0 billion. Notably, Frontier had acquired similar wireline assets in Connecticut from AT&T (T) in 2014.
In the next part, we'll look at Verizon's postpaid phone subscriber net additions.