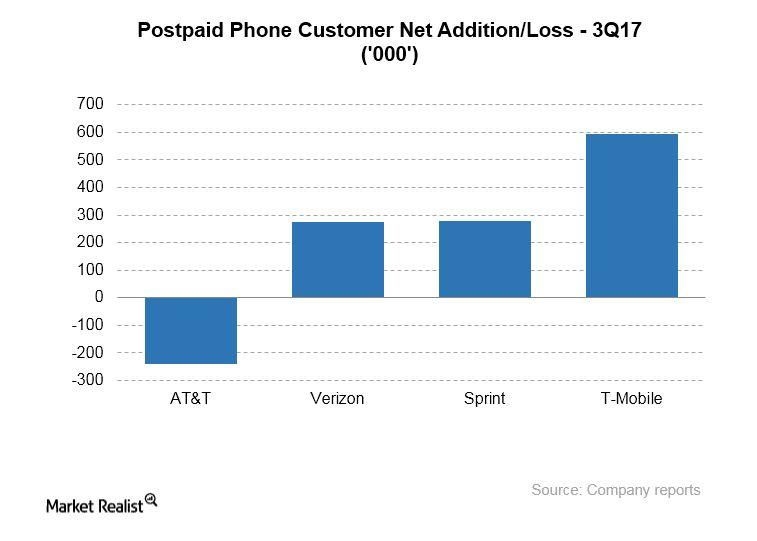 Inside T-Mobile's Customer Loyalty
T-Mobile gained 1.3 million customers in 3Q17
T-Mobile (TMUS), the US-based (SPY) subsidiary of Germany-based (EWG) telecom giant Deutsche Telekom, reported its 3Q17 results on October 23. The results showed that the company is continuing to build on the subscriber growth momentum it has exhibited in recent years.
A scrutiny of T-Mobile's 3Q17 scorecard also reveals that in addition to winning more customers to its network, the company is also building a loyal base of high-value customers.
T-Mobile added a total of 1.3 million customers in 3Q17, marking the 18th-straight quarter that the company has added more than 1.0 million customers. As a result, T-Mobile exited 3Q17 with a total of 70.7 million customers.
Article continues below advertisement
T-Mobile beats rivals in postpaid phone market
The company also continued to perform better than the competition in the coveted postpaid phone market. It registered an increase of 595,000 postpaid phone customers in 3Q17, compared with Sprint's (S) rise of 279,000 and Verizon Communications' (VZ) rise of 274,000 postpaid phone customers. AT&T (T) lost 241,000 postpaid phone customers in 3Q17.
T-Mobile customer loyalty improving
In addition to gaining new customers, T-Mobile is also doing well on the customer retention front. The company reported a postpaid phone churn rate of 1.23% in 3Q17, implying an improvement of 0.09% over 3Q16. (Churn rate measures the rate of customer defection—the lower the rate, the better.)
However, while T-Mobile's postpaid churn of 1.23% in 3Q17 was better than Sprint's 1.59% in the corresponding quarter, T-Mobile's churn was still higher than those of AT&T and Verizon. AT&T's postpaid churn was 0.84% in 3Q17, while Verizon's postpaid churn was 0.75% in 3Q17.
Still, T-Mobile's improving churn rate is noteworthy because it suggests improving customer loyalty.