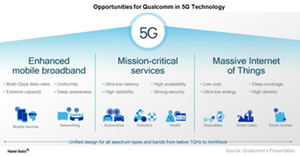 Inside NXP and 5G: Qualcomm's Window to Future Growth
Qualcomm's next big growth
The licensing battle with Apple (AAPL) and fines from various regulators have significantly reduced Qualcomm's (QCOM) earnings. Amid this changing technology trend, Qualcomm is eyeing the next-generation 5G technology that should connect billions of devices to the Internet.
Qualcomm is leading in the 5G space, and the technology is expected to roll out as early as 2019. Notably, Intel (INTC) is slowly following with its 5G technology.
Article continues below advertisement
Qualcomm's leading position in 5G would once again boost its growth, and this time, its market segment would go beyond smartphones into IoT (Internet of things) and automotive. Apart from the wireless connectivity technology, the company is also looking to take the lead in microprocessors for automotive and IoT. Qualcomm is thus acquiring NXP Semiconductors (NXPI), the largest automotive chip company in the world.
Qualcomm determined to complete NXP acquisition
However, the deal has received clearance from five regulators and clearance from European (IEV) and Chinese regulators are pending. The NXP deal is facing another challenge of the $110 acquisition price, which offered a 34% premium to NXP's pre-bid share price in October 2016.
Over the past year, the semiconductor industry has outperformed the market, and so has NXP, which saw its share price increase above $110. In August 2017, NXP shares rose to $117 as activist investor Elliott Management increased its stake in NXP to 6%.
Article continues below advertisement
NXP shareholders are demanding a higher price in the light of these recent improvements. Many analysts believe that Qualcomm might increase the bid price to $120 once the deal gets regulatory approvals. This would likely add ~$5 billion to the deal value. In the event activist shareholders refuse to sell their shares to Qualcomm, NXP management could lower the minimum tender threshold from 80% to 70%.
In any case, Qualcomm is determined to complete the acquisition because NXP could revive its growth and help it diversify in other areas. If either party backs out, they'd have to pay a hefty termination penalty, with NXP owing ~$1.3 billion and Qualcomm owing ~$2.0 billion.
Apple acts before QCOM-NXP deal 
Meanwhile, a QCOM-NXP combination would offer technology essentials for autonomous cars, smartphones, and IoT (Internet of Things), and so Apple can't ignore the QCOM-NXP deal. The handset maker is thus battling for a different pricing structure and better 5G licensing contract ahead of the QCOM-NXP deal and 5G rollout.
Apple, through its Fair Standards Alliance, is lobbying European regulators to replace their patent fee guidelines based on the value a technology adds to a product for a fixed fee.