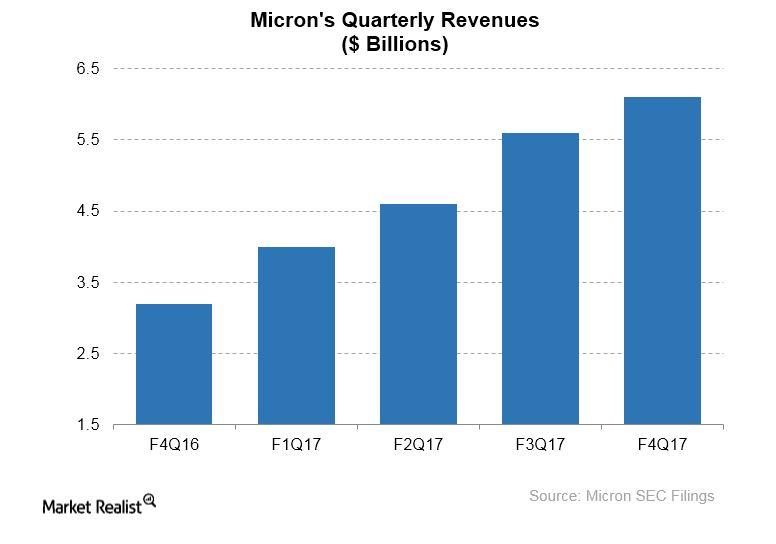 Inside Micron's Top-Line Growth
Micron beat on revenue and EPS fronts
US-based (SPY) semiconductor company Micron Technology (MU) reported fiscal 4Q17 (period ended August) results that blew away the expectations on key financial items (XLK). Over the past four quarters, Micron has sustained a double-digit percentage top-line growth rate and has either met or beat the consensus top-line estimates by no less than $20 million.
In fiscal 4Q17, Micron posted revenues of $6.1 billion, indicating a 91% YoY (year-over-year) rise. Revenues topped the consensus estimate by $180 million. From this strong top-line growth, the company was able to post adjusted EPS (earnings per share) of $2.02, which rose sharply from fiscal 4Q16, when the company suffered an adjusted EPS loss of $0.05. Micron's EPS metric in the latest quarter was better than the consensus estimate by $0.18.
Article continues below advertisement
How MU's top-line growth came about
Strong demand and higher selling prices of Micron's advanced memory products underpinned the company's top-line growth in 4Q17. Micron's DRAM sales volumes rose 5.0% sequentially and DRAM (dynamic random-access memory) ASP (average selling price) rose 8.0% sequentially. NAND (negative AND) sales volumes rose 3.0% sequentially and NAND ASP rose 5.0% sequentially.
The higher DRAM and NAND ASP caused Micron's gross margin to rise nearly 4.0% sequentially, contributing to the improvement in profitability registered in 4Q17.
Micron outpaced competitors in top-line growth
Micron's fiscal 4Q17 revenues grew faster than that of several of its competitors. Intel's (INTC) revenues rose 6.0% YoY, and Advanced Micro Devices' (AMD) revenues rose 26% YoY in their quarters corresponding to Micron's fiscal 4Q17. Qualcomm (QCOM), on the other hand, reported a 5.0% fall in revenues during the same period.