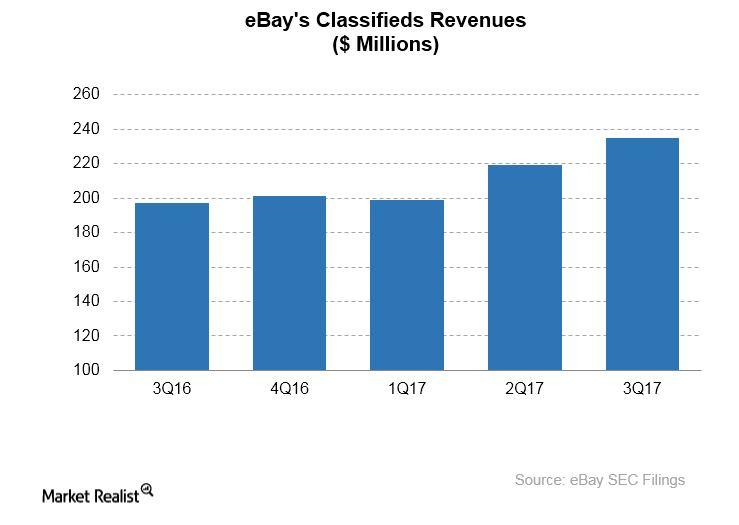 Inside eBay's Fastest-Growing Business
Classifieds ad sales up 19%
For its 3Q17, eBay (EBAY) announced that earnings were in line with expectations and revenue beat expectations. Revenue of $2.4 billion rose 9.0% year-over-year to beat consensus estimates by about $40 million. Revenue growth accelerated from 4.0% in 2Q17 and 8.0% in 3Q16.
Underlying eBay's revenue growth in the latest quarter was robust performance in the company's Classifieds business, which emerged as the fastest-growing eBay division. Classifieds revenue was $235 million in 3Q17—up 19% year-over-year on a reported basis. That figure compared with 8.0% year-over-year growth for Marketplace revenue and 5.0% growth for StubHub revenue.
Article continues below advertisement
Germany provided support for the Classifieds business
Through its Classifieds business, eBay provides classified advertising services to sellers to reach the millions of buyers on its platform. eBay offers its classified ads service in the United States (SPY) as well as abroad. In 3Q17, the company said growth in its Classifieds business mainly found support from strength in Germany (EWG).
The chart above shows eBay's Classifieds revenue over the last several quarters.
Exposure to the digital advertising industry
Through its Classifieds business, eBay is exposed to the expanding digital advertising industry. According to eMarketer, spending on digital ads in the United States this year will reach $83.0 billion and grow to $129.2 billion by 2021.
Alphabet's (GOOGL) Google and Facebook (FB) are the main players in the global digital advertising market. In its 3Q17, Google advertising revenue was $24.1 billion, up about 21.4% year-over-year. Facebook generates more than 90% of its over $9.0 billion quarterly revenue from advertising sales.