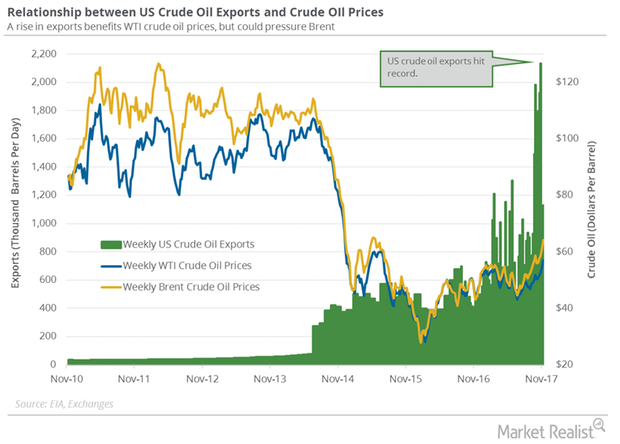 Improving US Crude Oil Drilling Costs and Oil Exports
US crude oil exports  
US crude oil exports rose by 462,000 bpd or 41% to 1,591,000 bpd on November 10–17, 2017, according to the EIA. Exports rose by 1,122,000 bpd or 239.2% from the same period in 2016. US crude oil exports hit 2,133,000 bpd for the week ending October 27, 2017—the highest level ever. Exports increased due to record US crude oil production, lifting the crude oil export ban, and a wider spread between Brent and US oil (UWT) (DWT) prices.
High US oil exports benefit US oil (USO) (USL) prices. However, they pressure Brent (BNO) oil prices. Volatility in oil prices impacts oil producers (IYE) (FENY) like Chesapeake Energy (CHK), Stone Energy (SGY), Whiting Petroleum (WLL), and Continental Resources (CLR).
Article continues below advertisement
US shale production 
US shale oil drilling costs have been falling compared to three years ago. Improving costs and higher oil prices would boost US drilling activity. US crude oil rigs have risen by 431 or ~135% since May 2016 due to higher crude oil (DWT) (UWT) prices. US shale oil production is estimated to rise for the 12th consecutive month in December 2017. Westwood Global Energy Group expects that US crude oil production could rise much sooner than the relative rise in US oil rigs. It estimates that US oil rigs could rise 18% in 2018.
Impact 
Any rise in US crude oil exports and production would offset the some of the impacts of OPEC's production cuts. It would weigh on oil (BNO) (DWT) prices.
Next, we'll analyze OPEC's meeting and how it could impact oil prices