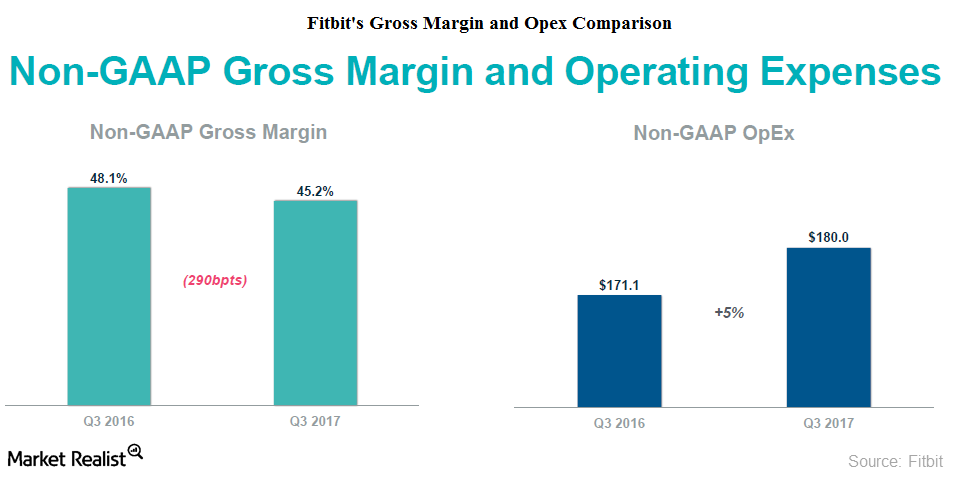 What Impacted Fitbit's Profit Margins in 3Q17?
Gross margin of 45.2%
Fitbit's (FIT) gross margins in 3Q17 rose 220 basis points QoQ (quarter-over-quarter) and fell 290 basis points YoY (year-over-year) to 45.2%. The gross margin was negatively impacted by Fitbit's improved warranty terms in several countries and its changed replacement policy for its legacy products. Fitbit believes that these actions will benefit the customer and drive user engagement.
In the first nine months of 2017, Fitbit increased R&D (research and development) costs by 5% YoY (year-over-year). Its operating expenses, however, were below the company forecast of $85 million and fell YoY in the same period. In 3Q17, Fitbit's operating costs rose 5% YoY to $180 million, primarily due to a one-time item that impacted G&A (general and administrative) spending.
Article continues below advertisement
WYNIT filed for bankruptcy
WYNIT, one of Fitbit's largest customers, filed for bankruptcy in 3Q17. WYNIT accounted for 11% of Fitbit's revenues and 19% of accounts receivable in 2Q17. Due to this bankruptcy, Fitbit could not book any of the shipments made to WYNIT prior to their filing as a part of its revenues, which impacted Fitbit's revenue by -$8 million in 3Q17.
Fitbit also increased its bad debt expense by $8 million in 3Q17, and this was the primary reason for its 48% YoY rise in G&A expenses. According to Fitbit CFO (chief financial officer) Bill Zerella, "This bad debt reserve is net of expected proceeds from insurance coverage on our WYNIT receivables." Zerella added: "The combination of less revenue and higher cost impacted our results by approximately $0.03 per share on a non-GAAP basis."