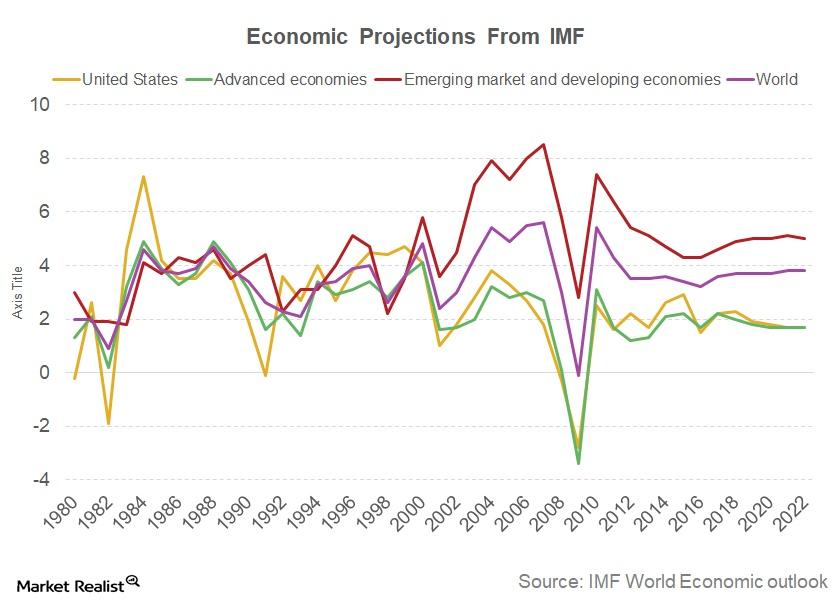 IMF World Economic Outlook October 2017 Update
IMF confirms economic activity is strengthening
The International Monetary Fund or IMF publishes the "World Economic Outlook" or WEO report biannually, in April and September or October, and it publishes two updates in January and July. The WEO report consists of key projections for major economies and includes the outlook for economic growth, inflation, and risks.
The latest report was released in October, and the IMF projected that the global economy is expected to grow to 3.6% in 2017 and 3.7% in 2018.
Article continues below advertisement
Key amendments to the April report
The October WEO update included broad-based upward revisions for economic activity in the Eurozone (VGK), Japan (EWJ), emerging Asia, emerging Europe, and Russia. The United States (VTI) and United Kingdom's (EWU) economic outlooks were revised downward but offset by projected growth in other economies. The IMF said the recovery in the global economy isn't complete, as growth remains weak in many countries, and inflation (TIP) is lagging in developed economies.
The IMF said short-term risks are broadly balanced, but medium-term risks are still tilted to the downside.
Series overview
In this series, we'll analyze the IMF's October "World Economic Outlook." We'll discuss the outlook for major economies like the United States, the United Kingdom, and the European Union, and we'll see the risks to global growth the IMF has outlined.