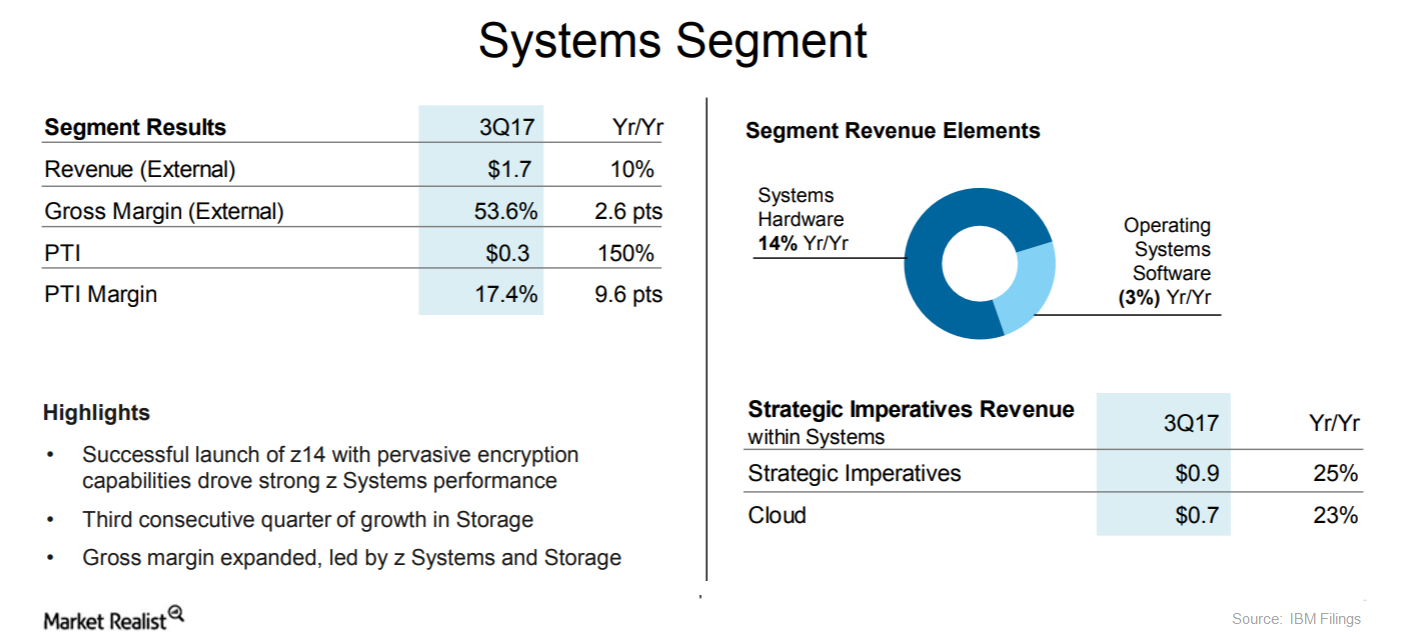 How IBM's Systems Segment Performed in 3Q17
Systems revenue continues to be a drag
Earlier in the series, we discussed International Business Machines' (IBM) GBS performance in fiscal 3Q17. Let's look into its Systems segment performance in the last quarter. IBM's Systems segment includes OS (operating systems) software and systems hardware. IBM's systems hardware business sells servers and storage, which is why it is dependent on the server market for its growth. The persistent decline in global server shipments and revenue has impacted this segment's revenues too. Fiscal 3Q17 proved to be no different for IBM's systems segment. Out of all IBM's operating segments, this segment's revenue fell the most in 3Q17.
Article continues below advertisement
Systems revenue fell 10% to $1.7 billion in 3Q17. Systems hardware revenues fell 14%, while OS software revenues fell 3%. However, Strategic Imperatives and Cloud revenues in this segment provided respite, reporting growth of 25% and 23%, respectively, for the quarter. z14 mainframe and storage continued to be bright spots for the GBS segment.

Growth revival in server market in 2Q17
Earlier in the series, we discussed IBM's Systems segment performance. 2Q17 marked the first quarter of growth after five straight quarters of decline in the global server space. Prior to 2Q17, this space had seen healthy growth with seven consecutive quarters of year-over-year growth.
IDC noted that global server revenues and shipments grew 6.3% and 1.9% to ~$15.7 billion and ~2.5 million units, respectively. Gartner also shared a similar opinion but different growth figures. Gartner reported that shipments grew 2.4% to ~2.8 million units, while server market revenues grew 2.8% to ~$13.9 billion in 2Q17.