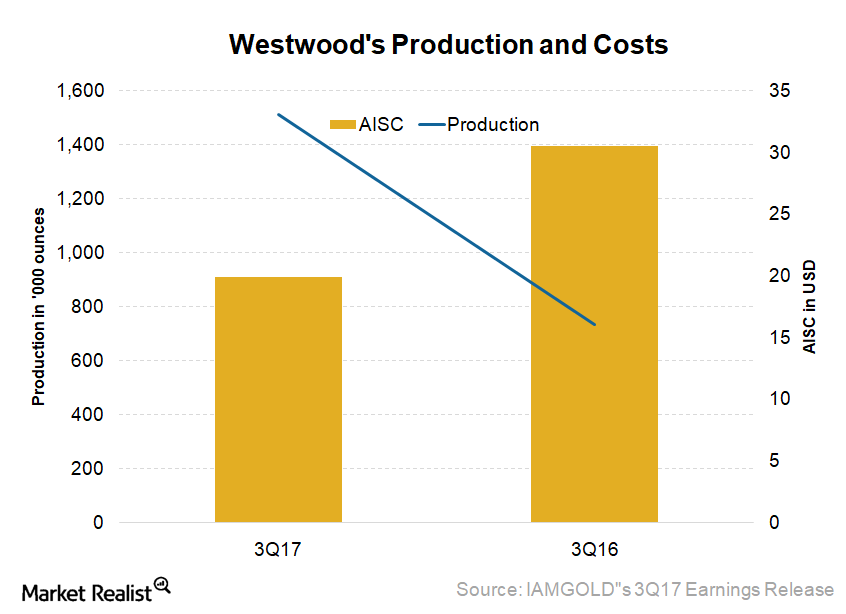 How IAG's Westwood Mine Development Is Coming Along
IAG's Westwood mine: significant growth
IAMGOLD's (IAG) Westwood reported 106% higher production in 3Q17 on a YoY (year-over-year) basis, coming in at 33,000 ounces. The higher production is mainly due to the continued ramp-up of the mine, which resulted in higher throughput and tons mined.
During its 3Q17 earnings call, IAG COO (chief operating officer) Gord Stothart mentioned that the underground mined grade at Westwood is much higher than the total reported head grade, mainly because the company is processing marginal surface ore stockpiles to take advantage of available mill capacity.
The underground head grade in 3Q17 was 7.4 grams per ton, or 11% higher than the combined number reported earlier.
Article continues below advertisement
Westwood development continues
The underground development at IAG's Westwood mine continued in 3Q17. This development is being undertaken to open access to new mining areas with lateral and vertical development of ~3,400 and 500 meters, respectively.
The mine is expected to achieve 18 kilometers of development during 2017. The focus is on ramp breakthroughs and infrastructure development in future development blocks at lower levels.
Cost improvement
IAG has been normalizing its costs at its Westwood operations, which were attributed to inventory. It had started doing so since its seismic event in May 2015. The company ended this practice at the start of 2Q17 after the mine reached normal production levels. The company reported AISC (all-in sustaining costs) of $907 per ounce in 3Q17, or 35% higher YoY.
The improvement in costs came mainly from higher volumes produced and lower sustaining capital expenditures. As production increases, Westwood's costs are expected to fall even further. Once the mine is operating at full capacity, it's expected to have the lowest unit costs of any of its operating mines.
Due to the presence of hard rock, the cost structure for IAG's Essakane and Rosebel mines remains high. While exploration results at these mines have shown encouraging results, Westwood remains a key for the company to increase its production while lowering costs.
Peer (NUGT) (GDXJ) Eldorado Gold (EGO) is also facing issues at several of its mines, including its mines in Greece. New Gold's (NGD) capital expenditure requirements for its key project, Rainy River, have crept higher. While Kinross Gold (KGC) also initially faced issues at its Tasiast expansion project, work on the project is now going as planned.