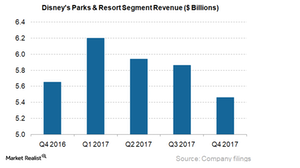 How Hurricane Irma Affected Disney's Parks & Resorts
Performance in 4Q17
Hurricane Irma was 2017's second blow to The Walt Disney Company's (DIS) domestic Parks & Resorts business in Florida. Irma forced the park to close for two days, and the company called off three cruise itineraries and reduced two others.
The graph above shows Parks & Resorts revenue over the last five quarters. The segment contributes ~34% of the company's total revenue, while the domestic business generates ~80% of Parks & Resorts revenue. In fiscal 4Q17, Parks & Resorts revenue rose 6% YoY (year-over-year) to $4.7 billion, while operating income grew 7%.
Article continues below advertisement
Hurricane Irma's impact
The company believes that Hurricane Irma resulted in a ~$100 million fall in its domestic Parks & Resorts operating income. Its domestic operating income fell 1.7% YoY.
As cited by CNN, the Themed Entertainment Association's annual report indicates that Disney's Magic Kingdom in Florida happens to be the most popular park in the world, with attendance of more than 20 million in 2016. Therefore, closing down the park for two days certainly hurt attendance. The company estimates that Hurricane Irma caused a ~3% YoY drop in its domestic park attendance.
In October 2016, Walt Disney World closed due to Hurricane Matthew, affecting the company's 1Q17 domestic operating margin. Theme park peers Comcast (CMCSA) and SeaWorld Entertainment (SEAS) also closed for two days due to the hurricane.