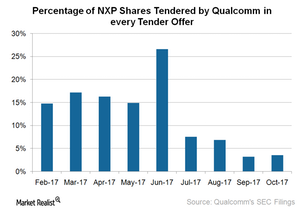 How's the Qualcomm-NXP Deal Progressing?
Challenges in Qualcomm-NXP deal
The biggest move by Qualcomm (QCOM) to boost future growth so far would have to be its acquisition of automotive semiconductor giant NXP Semiconductors (NXPI). The deal was announced in October 2016 and was expected to close by the end of calendar 2017. However, it looks as if the deal may be postponed due to several challenges.
First, the deal came under the scrutiny by the EC (European Commission) over antitrust concerns. In October 2017, Qualcomm offered concessions to address EC's (IEV) concerns. According to a Reuters report, Qualcomm has offered to sell certain patents, offer interoperability, and allow rivals to use NXP products in order to keep the market competitive.
Article continues below advertisement
The deal has also been criticized as significantly devalued by activist investor Elliot Management, which owns a 6% stake in NXP. Qualcomm's offer price is $110 per NXP share. However, optimism in the semiconductor industry and strong fundamentals of NXP increased its stock price above $117 at the end of October 2017.
NXP CEO (chief executive officer) Rick Clemmer stated that there's a possibility that the closing of the NXP-Qualcomm deal would be postponed until early 2018. Some analysts reacted to this news, hinting at the possibility that the deal could get canceled.
Analysts' take on Qualcomm-NXP deal 
Bernstein analyst Stacy Rasgon has given a "hold" recommendation for NXP and has raised his price target from $110 to $125. Rasgon stated that NXP's higher stock price is due to its strong fundamental performance and activist involvement. However, a higher stock price brings an equally high risk of a downside.
SunTrust Robinson Humphrey analyst William Stein has noted that an NXP share is currently trading above $116. In this scenario, why would an investor sell its shares to Qualcomm for $110? Qualcomm would have to raise its offer price in order to close the deal. The fact that hedge funds own over 40% of NXP shares makes the case for a higher offer price even stronger.
NXP shareholders appear to be refusing to sell their shares to Qualcomm at $110. In the latest tender offer, Qualcomm tendered only 3.6% of its total outstanding shares of NXP.
William Stein suggests that NXP's fair takeout valuation stands at $122, which equates to an EV-to-Sales (enterprise value-to-sales) multiple of 5.5x and an EV-to-EBITDA (earnings before interest, tax, depreciation, and amortization) multiple of 15.5x.
Stein also discussed a scenario wherein the Qualcomm-NXP deal falls through. It the deal were canceled, NXP would likely become an acquirer instead of an acquisition target. But Qualcomm will not likely give up on NXP as this deal is very important for its future growth.