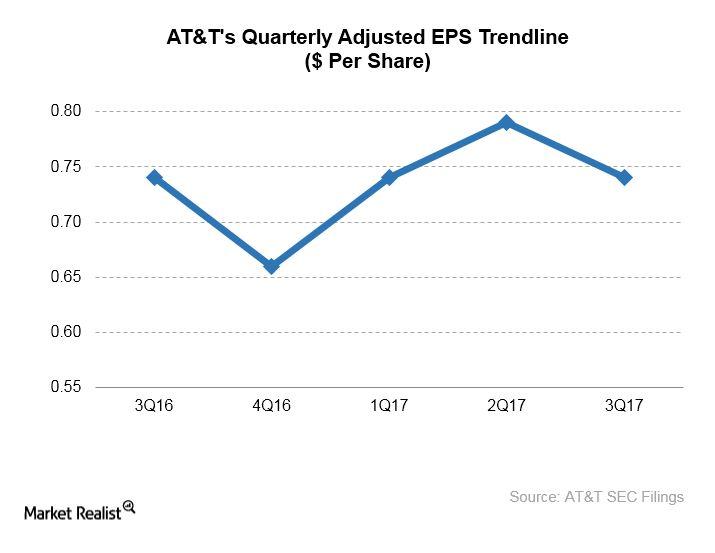 How the Hurricanes Impacted AT&T's Earnings
AT&T fell short of 3Q17 earnings expectation
AT&T (T) released its 3Q17 financial results on October 24, amid the reporting dates of its major US (SPY) national rivals. Verizon Communications (VZ) reported its 3Q17 financial results on October 19, and T-Mobile (TMUS) reported its 3Q17 results on October 23. Sprint (S) reported its fiscal 2Q17 (September quarter) results on October 25.
But the content of AT&T's 3Q17 scorecard was a far cry from that of its national peers. The company lost coveted postpaid phone customers during the quarter, while all its three rivals reported gains. AT&T missed both its adjusted EPS (earnings per share) and revenue expectations, while its three rivals beat expectations in at least one area.
Article continues below advertisement
AT&T earnings flat from 3Q16
AT&T posted adjusted EPS of $0.74 in 3Q17, which was unchanged from 3Q16 but $0.01 below the consensus estimate. Revenues totaled $39.7 billion, or 3.0% lower YoY (year-over-year) and below the consensus estimate by about $450 million.
Hurricanes weighed on AT&T's earnings
According to AT&T, revenues would have reached at least $39.8 billion in 3Q17 had it not been for the adverse impacts from the US Gulf hurricanes and the Mexico earthquakes that hit parts of its markets during the quarter.
AT&T said that its EPS (earnings per share) lost $0.25 due to merger expenses and the hurricane and earthquake impacts.