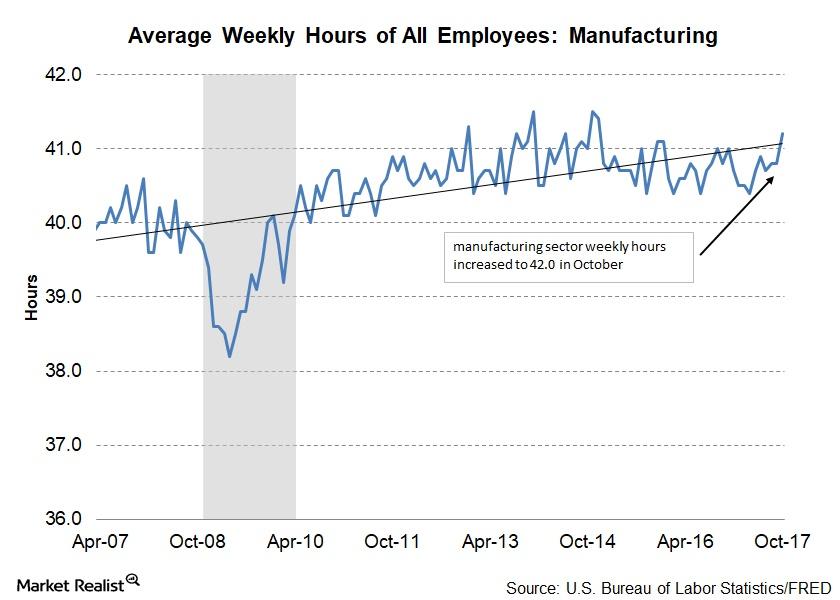 How the Bounce in Manufacturing Production Hours Affects the Industry
Manufacturing data
The US Bureau of Labor Statistics releases manufacturing data every month after its establishment survey. The health of the manufacturing sector can be assessed by observing the changes to the number of working hours in the sector.
If the number of working hours have been increasing, it is an indication that management is expecting demand to pick up in the future. Increased demand in the manufacturing sector (FXR) is a positive sign for the economy.
Article continues below advertisement
Average weekly hours
According to the latest data, the average working hours for production workers increased by 0.1 hours to 42.0 hours in October. The September average weekly hours were revised higher from 41.8 to 41.9.
This indicator had a net positive contribution of 7.0% to the Conference Board Leading Economic Index in October. Demand could stay elevated going into the holiday season, and employee overtime could be offered to compensate for employees taking vacation days this season.
Key industries and ETF performance
The SPDR Industrial Select Sector ETF (XLI), which has an index weight of ~6.1% for 3M (MMM) and ~6.6% for Boeing (BA), has returned ~14.8% so far this year. A positive earnings cycle coupled with the possibility of potential tax cuts extended the gains in the sector.
The surprise consolidation announcement from General Electric (GE) was a significant drag on the sector and the US Index (SPY).
In the next part of this series, we'll analyze the impact of weekly jobless claims on the Conference Board Leading Economic Index.